Learn how to exclude items from being promoted through Promoted Listings Standard with the Exclusion of Items feature. This article explains how the feature works and contains answers to other common questions.
Topics in this article:
What is the Exclusion of Items feature?
Sellers using Promoted Listings Standard have the ability to control which items should not be promoted in their ad campaigns, in the event they do not want to promote all of their listings.
How does this feature impact campaign results?
It depends on your marketing strategy. Some sellers do not budget for advertising their entire inventory, so Webinterpret released this feature to provide a way for you to exclude specific items from being promoted.
Where can I find this feature?
Exclusion of Items can be found in the Marketing Dashboard under YOUR ITEMS: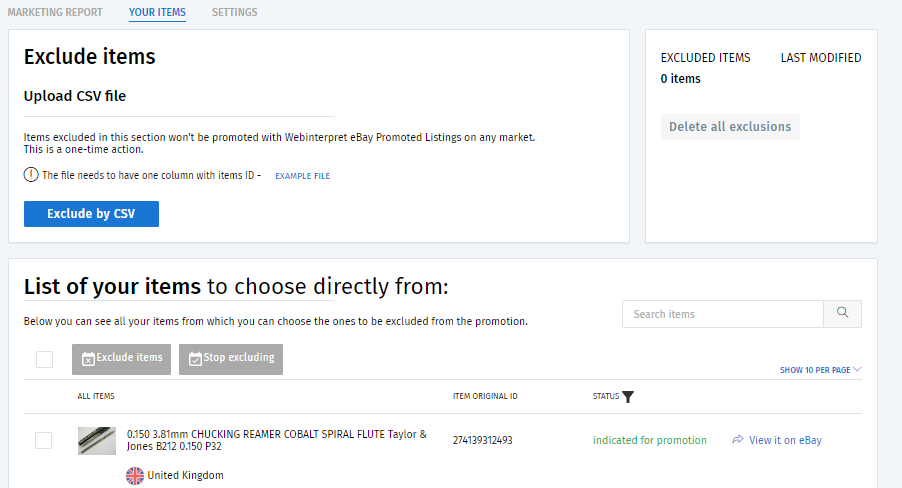 Using the Exclude by CSV button, upload a CSV file containing the IDs of the items you wish to exclude from promotion. The CSV file must contain one Item ID per line.
Once the CSV file has been selected, click Upload. The file will be processed and you can expect to have these items excluded from your campaigns within the next 24 hours.
How do I make changes to excluded items?
If any changes to the CSV file need to be made, download the previous CSV file and add or remove the Item ID(s) from the list as required. Re-upload the list using the same process described above.