This article will guide you through managing your eBay Promoted Listings Standard ad rate using the Ad Rate Manager in the Marketing Dashboard. Ad rates can be managed on per individual campaign, and per domestic or international market(s).
Topics in this article:
How to use the Ad Rate Manager per campaign
If you are a current subscriber on our Promoted Listings Standard service, you can manage your ad rate percentage (%) directly from your Marketing Dashboard using the Ad Rate Manager.
(IMPORTANT: Trial sellers using Promoted Listings for their international listings will need to upgrade to a subscription in order to have full access to the Ad Rate Manager (you can see your eligibility from the Dashboard). Trial sellers using Promoted Listings for their domestic listings can access and make changes using the Ad Rate Manager immediately).
Ad rates are currently based on the default recommended percentage (as supported by eBay), which is between 2% and 3.5% per campaign (our Smart strategy ad rate). If no changes to ad rate are made, Webinterpret's Smart strategy algorithm will be chosen by default.
With the new Ad Rate Manager, you can also select the percentage (%) of your choice, depending on your desired budget and marketplace location. This is important as now you can choose to focus on and increase your ad rate in specific marketplaces, while (for example) using the recommended Smart strategy ad rate on other marketplaces.
To simplify the process even further, we have launched the Webinterpret Recommended rate option (a new option alongside the eBay Recommended rate). Our recommendation is based on the current trending ad rate for the specified market, and factors in the products being promoted for the campaign.
This allows you to take the guesswork out of ad rate management, and will ensure your listings remain competitive on all of your domestic and international markets.
To make changes to your desired ad rate, log in to your Marketing Dashboard and you will see your latest available reports.
Displayed on the right-hand side (as shown below) is the AD RATE column, where you can click on the pencil (edit) icon to check and edit your current default selection: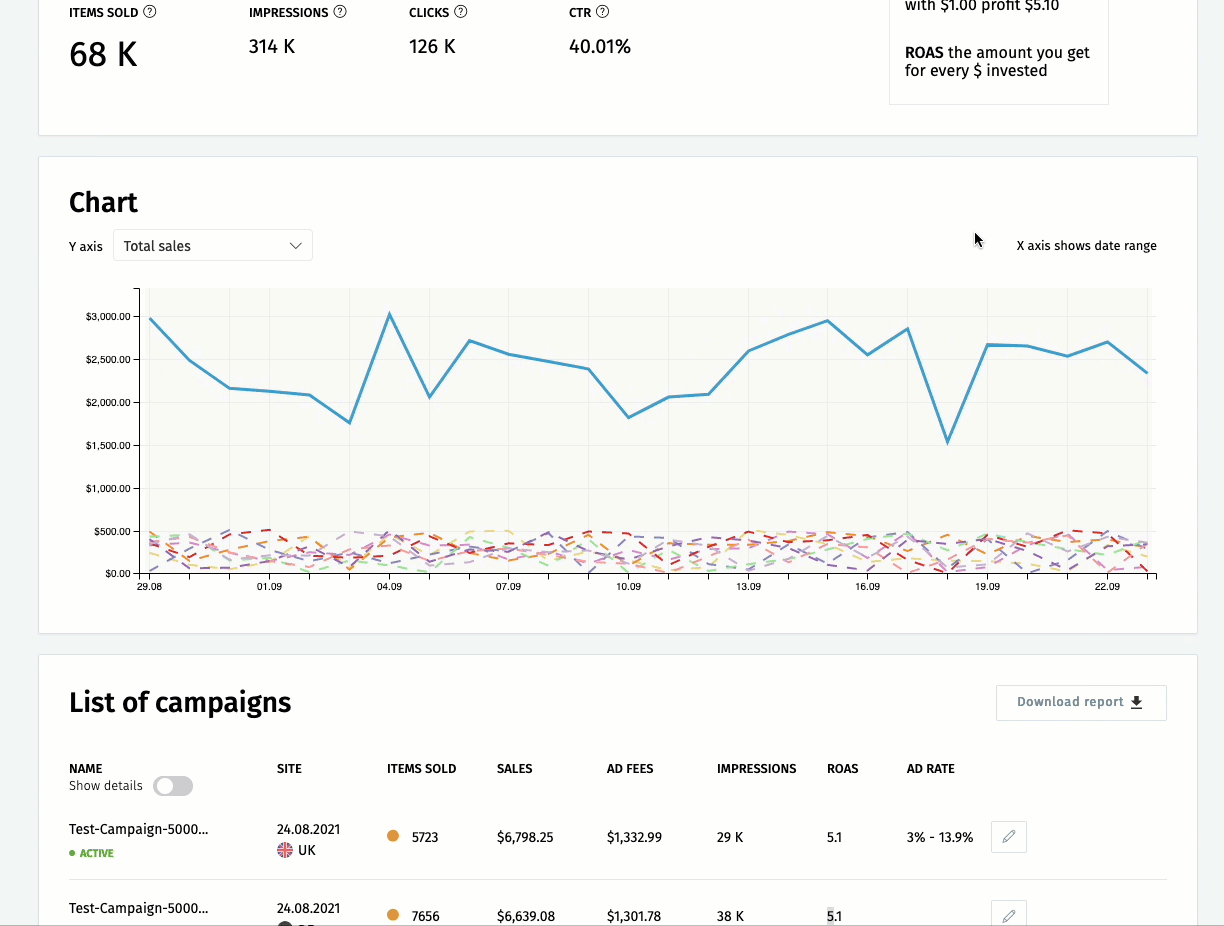 To summarize, the options available to you (depending on your preference and campaign spend) are as follows:
Utilize the current default ad rate (Webinterpret's S

mart strategy

) which will not exceed 3.5%

Input a desired ad rate range (in %), and all items within the campaign will be promoted depending on Webinterpret's recommendation

Select the Webinterpret Recommended rate or eBay Recommended rates directly

Select a flat rate (in %), where all items will be promoted with this standard selected ad rate
If you wish to remain on the default smart strategy Ad Rate, no updates or changes are necessary.
If you wish to check your Marketing statistics and reporting, please see the article How to access and view reporting.
How to use the Ad Rate Manager per market
You can also manage your ad rate directly on a market level. You can use the same type of ad rates (i.e. Webinterpret Recommended rate, eBay Recommended rate) that are available on the campaign level. Applying an ad rate on the market level will mean that new campaigns will be created using this type of ad rate. Active campaigns will remain with any ad rates that were set up on the campaign level.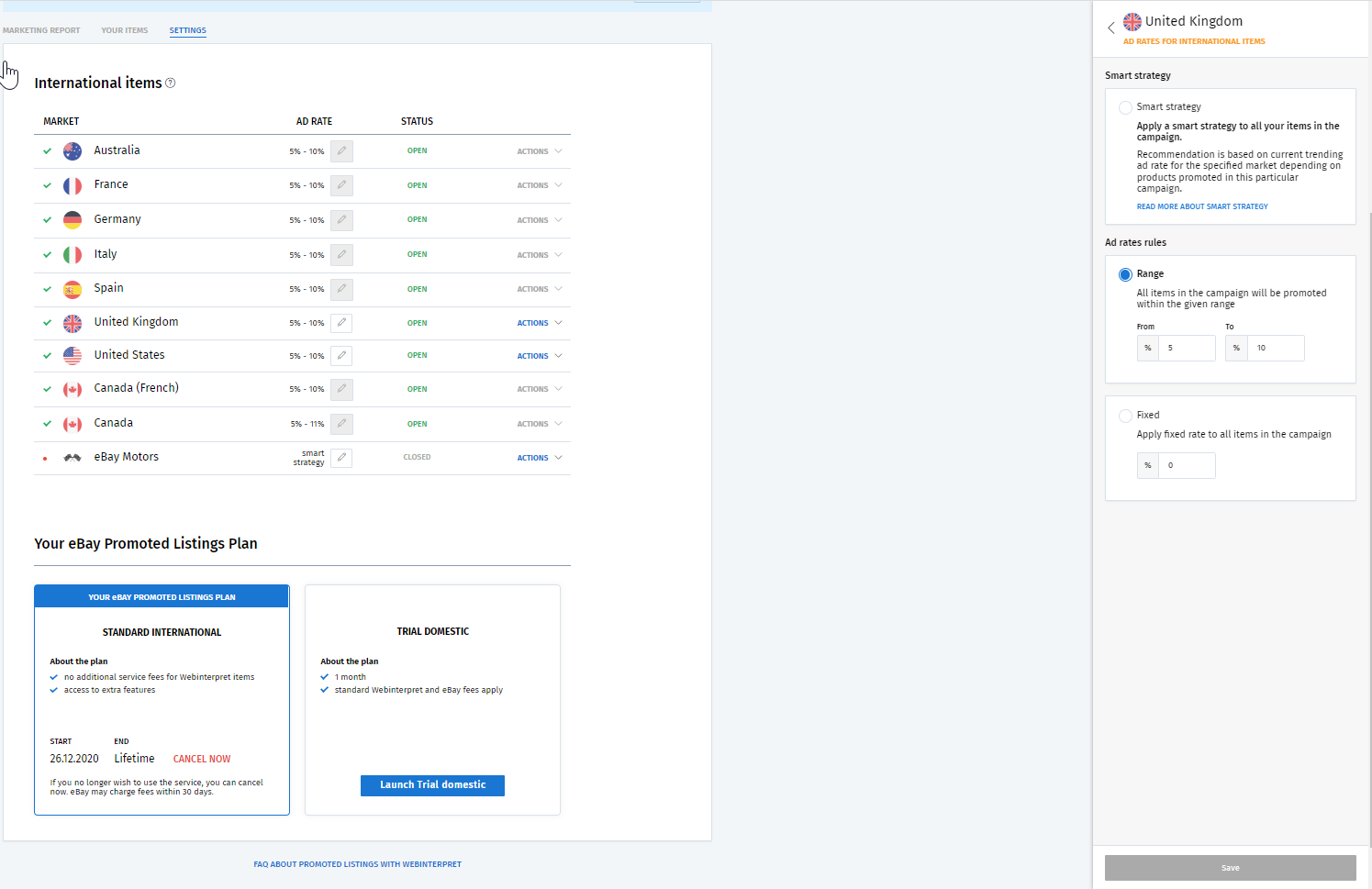 For sellers using the trial version of Promoted Listings Standard, you can upgrade your plan for full access to the Ad Rate Manager in the Marketing Dashboard: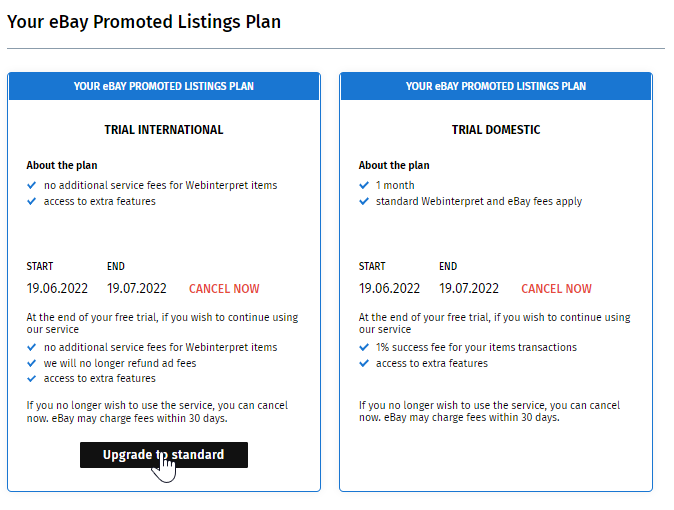 If you are not currently enrolled in our eBay programs or wish to learn more about our Amazon subscription, please contact our Sales Team here.