This article will help you manage your International shipping prices and also delivery times displayed to your Buyers.
Topics in this article:
Set default international shipping rates - video tutorial
First of all, please check out our Video Tutorial which will guide you through setting default international shipping rates, all from within your Webinterpret Dashboard. For further information on different methods to set up these rates, continue with the article below:
Below we will provide guides to 2 different methods of setting up your International Shipping options. First we will demonstrate the set-up within your My eBay account, and if you prefer to set-up within your Webinterpret Dashboard and utilise your Shipping Manager contained within, there is a link to an article explaining that process step-by-step.
Steps to set-up international shipping via My eBay
When logged in to your eBay Account Settings, click on Business Policies listed on the left hand side menu. Included within this Business Policies page will be any existing Shipping Option you have created. To offer your Listings Internationally with Webinterpret, you now need to create a new Shipping Option which will ensure we can actively list in whichever selected Markets you wish.
To do this, under Manage Business Policies click on Create Policy, when the message appears asking for which type of policy you wish to create, click on Postage.
On this page you can provide a customized name for this policy and a description enabling you to clarify each different Shipping Option within your settings.
Before creating your International Shipping Options, first complete the settings you require for Domestic Postage, which normally would be duplicated from your standard Domestic set-up (please note that if the Domestic Postage is not complete, Webinterpret cannot offer listings Internationally from this Shipping Option).
If you wish to add International Shipping to an existing policy (the page will appear as per below), click on the customized option and enable International Postage.

Once Domestic Postage is complete, click on International Postage and then Flat: same cost to all buyers. You will now see the tables and rates needed for International Set-up. Depending on your individual needs, you can create up to 5 customized Shipping Options for different locations/regions. Below is an example where we have set-up customized options depending on the cost and speed of the shipping desired.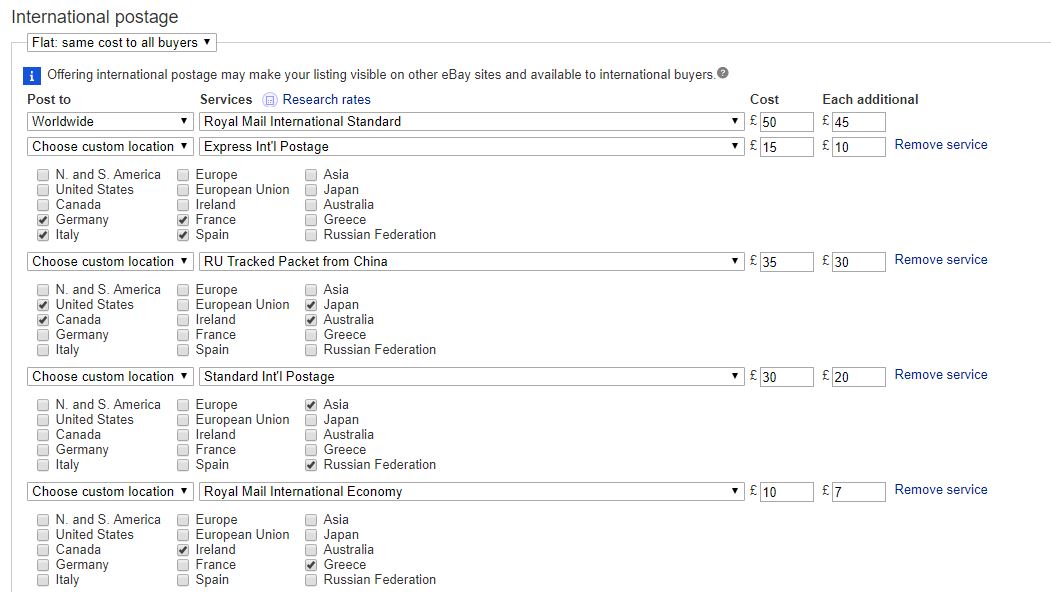 Once completed, you will see an option for Delivery Rate Tables displayed below. Please note that Webinterpret only supports listings on International eBay sites. Domestic shipping and customized rate tables are therefore for domestic items only. Also, any International Postage Rate Table you have created will again, be for domestic items shipping from eBay.co.uk to International locations. Here is a quick example to clarify how this works:
1. Domestic Listings which are purchased from eBay.co.uk from Spain/Germany/Anywhere, are subject to whatever Domestic Shipping option you have specified. This can be done Country by Country or Region by Region as you prefer.
2. International Listings which are purchased from eBay.es from Germany/Australia/Anywhere, are subject to the International Postage created as demonstrated in the image above.
This means that Domestic items and any Domestic/Shipping rate tables are completely separate from the International Postage settings displayed above. Orders received in your Domestic store (regardless of delivery country) are to be dealt with within your created rate tables etc. Orders received on your International Stores, are likewise to be dealt with according to the set-up of International Postage.
Steps to set-up international shipping via your Webinterpret Dashboard
The Shipping Manager within your Dashboard includes coverage for 11 International locations. Scandinavia, Asia & CES regions for example, are NOT included for set-up within Shipping Manager. International sales therefore from these regions will rely on the Shipping options selected within My eBay International Postage or will appear as On Demand orders. In the case of On Demand orders, the Buyer will receive a notification that Shipping rates are not currently available, they are then encouraged to contact you as the Seller to provide the quoted rates for this specific location.
This article provides a step-by-step guide to setting up your very own customized Shipping Manager
eBay shipping mapping guide
To assist in accurate Shipping settings, we have provided an approximate shipping duration guide which is offered by eBay directly. This guide provides base shipping times and eta for international logistic settings based on carrier service(s) selected. Please remember international shipping settings will not affect domestic items. Just to clarify, if you wish to provide an ETA of 10 days to ship items to Italy, you can select one of the 5 carrier services providing estimated duration of 4-10 days (i.e Royal Mail International Standard, Royal Mail International Signed, Parcelforce Global Priority, Standard Int'l Postage, Parcelforce International Datapost).
At the foot of this page we provide the above mentioned UK Shipping Map and have now also added this for our US Sellers.
To support you during the initial set-up (or changes to an existing profile) of your Shipping Manager via your Webinterpret Dashboard, please complete our Webform and report any issues or difficulties you may be experiencing.
Any issues related to setting up your International Postage via My eBay, please contact eBay directly for Support.