In this article you will learn how to increase the accuracy of translated titles on eBay and Amazon. Here you will find out what you should do and what you should avoid in order to make the most of your listings on those platforms.
Topics in this article:
For eBay and Amazon sellers, it's imperative that your listings are as visible and effective as possible. This doesn't just apply to any domestic listing you have, but also any that WebInterpret are translating and listing on International markets too.
Due to a new updated version of our translation process, we are now utilizing an improved system that increases the accuracy of translations based on your original listings.
In real terms, this updated process is significantly more unified to eBay and Amazon rules, and relies on the original listing(s) matching and satisfying eBay or Amazon requirements.
Below is a brief guide (including articles from eBay and Amazon with specific listing instructions):
How to improve the localization (accuracy of translation) of items listed on eBay & Amazon platforms
Due to complexity of this new process, as of now we have initiated the improvement of titles for the following pairs of languages (translations based on other origin languages such as French, Spanish and Italian will be released going forward):
English - French, Italian, Spanish, German
German - French, Italian, Spanish, English
We have prepared a short guide of do's and don'ts for you, which our online sellers should follow in aim of the products to be listed correctly on the eBay & Amazon platforms.
Essential to do
Capitalize the first letter of each word, including (any) two words joined by a hyphen (very important for German translations)

Capitalize the second element in a (or any) hyphenated written-out number i.e Forty-Ninth Street Blues

If necessary, use ALL CAPS text, but just in: acronyms of countries: USA or brand names such as HP

Write model/serial numbers/reference IDs containing letters using capitalized letters

Write sizes, such as L, XL, 38F with an uppercase

Write units, for example: MB with an uppercase
Essential to avoid
Do not use ALL CAPS related to a term or to the whole title itself

Do not Capitalize conjunctions and/or articles

Do not Capitalize prepositions with fewer than five letters

Do not Capitalize the second element, if the first element is a prefix that cannot stand alone by itself (anti- or pre-). For example: Anti-inflammatory Dieting
Below is a great visual example of the differences between good and bad titles, as recommended by eBay (and with minimal differences, Amazon also):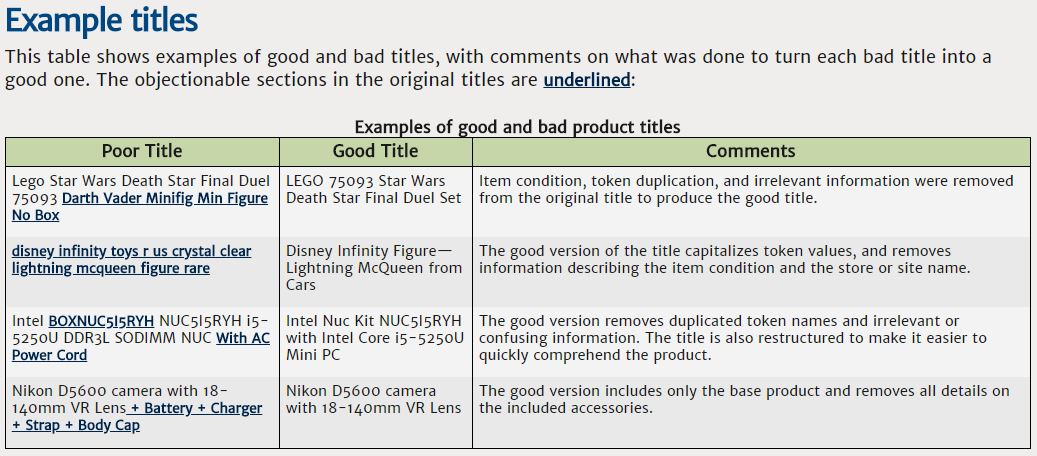 In ensuring the recommendations from eBay and Amazon are followed and adhered to, your International Translated listings will be better than ever. When reviewing your Domestic listings, simply check whether they are written to the standard(s) recommended, if not, make the necessary amendments, and our new translation process will take care of the rest.
For more information, on how to write the titles correctly, please click either of the following links with title guidelines:
Specific Guidelines for eBay Are Here: Title Guidelines and Recommendations on eBay
Specific Guidelines for Amazon Are Here: Title Guidelines and Recommendations on Amazon