This article will help to understand our payments and fees process, and where to access and download invoices. Below we have provided a full FAQ to assist in any queries:
• Where can I find and download my invoice?
Please note that for security reasons invoices are no longer emailed as attachments. They can only be accessed via the seller dashboard.
Invoices are available in the WebInterpret Dashboard. You can access, download and print them out under the following link (you need to login to your WebInterpret dashboard):
https://app.webinterpret.com/#/profile/invoices
To access the "Invoices" section, simply click on the blue user icon in the top-right corner of the dashboard. There you will find all your issued invoices.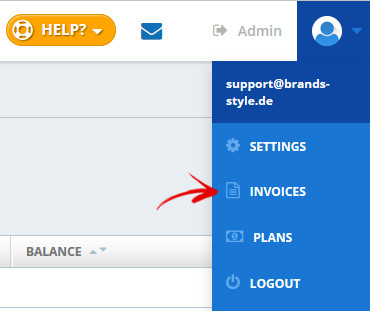 The invoices are downloadable in PDF format. For more information on where to download and print invoices, read this Help Center article.
• What is invoiced by WebInterpret?
WebInterpret's Subscription fees are charged in advance on a monthly or yearly basis (depending on the subscription type), while a Success fee (Commission) is charged only when a transaction is concluded and paid. Some plans have Transaction fees instead of monthly/yearly fees.
To see our subscription types, visit the Plans section by logging into your WebInterpret dashboard, clicking on your user profile icon and selecting Plans from the drop-down menu.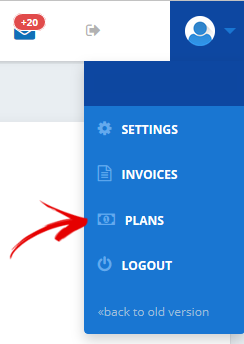 • What is the difference between a Transaction and Success fee?
Transaction fees are charged for each successfully purchased international item listed by WebInterpret.
Success fees (Commission) are a percentage of your monthly revenue in international sales. Its rate depends on your WebInterpret plan.
• When are fees charged?
Transaction and Success fees (Commission) are charged for successful transactions made on international listings created by WebInterpret for the last month according to your billing cycle.
Your Subscription is charged in advance but the Success fee (Commission) and Transaction fees are charged only when transactions are concluded and paid. Please bear in mind that we do not charge for unpaid transactions
eBay account holders have full access to all charged Transactions via their WebInterpret account dashboard. Simply use the link below to access your eBay-WebInterpret Dashboard
https://app.webinterpret.com/#/profile/invoices
• How do you read a WebInterpret invoice?
For a sample WebInterpret invoice with explanations of each section, please read this Help Center article.
• When are invoices issued?
Invoices are issued once a month on the day you joined WebInterpret and are available for download from your WebInterpret dashboard.
Payment is made up to 5 days after the invoice was created, either by automatic debit of the user's credit card or PayPal account. For more information on payments, please read this Help Center article.
We send invoice within one of our 6 batches (billing periods) depending on the date you joined WebInterpret. This means it is issued at the same date each month.
Batch 1 : from 1 to 5 (day of a month)
Batch 2 : from 6 to 10
Batch 3 : from 11 to 15
Batch 4 : from 16 to 20
Batch 5 : from 21 to 25
Batch 6 : from 26 to 31
• Where do I find my billing cycle date?
To see your billing cycle renewal date, please check your invoices.
• How do I cancel my account?
You can cancel your account by contacting our Support department.
• Why are payments not working?
When payments are not taken automatically because a payment token was revoked due to technical reasons, a lack of account funds or synchronization problems, the token has to be re-linked again.
You may not be aware that a payment token has been revoked, however you will receive payment reminders. For more information on how to relink a payment token, check this Help Center article.
In the event of a failed payment we will attempt to process your payment up to 3 times.
• What payment options do you accept?
We accept PayPal and credit/debit cards (MasterCard and Visa only). We do not accept wire transfers or cheques.
• How do I make payments?
When you move to a paying WebInterpret program you have to link your eBay or Amazon payment token to our system and choose a payment method (PayPal or credit card). Afterwards, all payments will be taken automatically from your PayPal or credit card account.
If you change your PayPal or Credit Credit card email, please contact our support department. We will send you another payment link to activate the new payment method and further instructions on how to activate the new payment method. More details in this Help Center article.
• Why is the 20% tax applied twice?
A 20% tax is added to the Transaction fee and then to the Success fee (Commission).
At the bottom of your invoice you can see the Net Amount (amount without tax), which is the sum of the Transaction fee and the Success fee (Commission) before taxes are applied. The 20% tax is simply applied to both fees at the same time.
• Cancelled and unpaid transactions
WebInterpret will refund fees on cancelled or unpaid transactions. However, we will not cover the shipping costs.
WebInterpret transaction fees are charged only when transactions on translated items are concluded and paid. We do not charge for unpaid transactions.
If a transaction is paid and cancelled before the invoice for this cycle is issued, then it will be automatically not added to the invoice. However, if a cancellation is done after the transaction fees were added to your invoice, we will have to manually reimburse you the fees.
Please be aware that their is a difference in the refund/cancellation process depending on which platform the sale is made. For example:
eBay - Refunds arranged directly through your eBay account will be automatically processed. This is due to WebInterpret being synchronised and supporting live transactions (Please note, refunds processed via paypal or any other method will not be supported).
Amazon - It is very important that you provide WebInterpret with verifiable proof that the transaction was cancelled or the product was returned to you.
For more information on what you need to provide as proof, please read this article.
• When will I receive my refund?
The refund date is given by the Customer Advocate handling your case in an email confirmation. It is usually in the next invoice depending on your billing batch. Should the refund be delayed you will receive the appropriate information from one of our Customer Advocates.
• How do you process refunds?
WebInterpret will deduct the refund amount from the invoice. If the refund amount is higher than the invoiced amount, it will either be deposited to the customer's PayPal account or deducted from the next invoice. The details are given by the Customer Advocate handling the case in an email confirmation.
As this is confidential and sensitive data, please always bear in mind that for a PayPal transfer the PayPal email address is needed. Asking each time for the PayPal email address we want to make sure we transfer the amount to the correct account.
• How is refund marked on the invoice?
Credit Notes (refunds and other adjustments) are included at the very bottom of the invoice, in Section 10 of this sample invoice (PDF)
• Why do I keep receiving invoices if my account is closed/paused?
If you paused, deleted or exited from your WebInterpret account you will not receive any invoices resulting from the fixed subscription fee. However, you will receive an invoice concerning Success Fee (Commission) and Transaction Fees for transactions made on WebInterpret listings since the last invoice until your exit date.
Since invoices are issued for the upcoming month, and commission for the last month, one more invoice might be issued after the account was closed.
Example:
If you are invoiced at the end of each month and the account is closed in the middle of September, you will receive one more invoice at the end of September. This invoice will not have any Subscription Fee, but will include Commission (Success Fees) on items sold during September (until the account was closed).
If you look at the "Usage details" section of the invoice, you will see the last day when the Commission and Transaction Fees were charged and anything charged after the exit date.
• How do I modify personal invoice details (address, email, etc.)?
Profile Manager allows you to update your account and invoice details, such as password, company name and address, VAT, 3rd party tools etc., available from your WebInterpret User Interface. Now it can be updated by you, with no need to contact our account team and no delay in making desired changes. Login to your SUI (Seller User Interface) Here.