This article explains how to change and update your payment method with Webinterpret. PayPal to Credit or Debit card or vice versa.
(Dashboard & Seller User Interface is currently available for eBay & Amazon users. Global PayPal sellers do not currently have access to a dashboard as this is managed via a plug-in.)
Pricing Plans & Subscriptions are available on our Pricing Page.
Sometimes you want to change how you do things. Sometimes you need to.
This includes what accounts or payment methods you wish to use for different purchases or subscriptions.
To provide you with as much control and flexibility over your Webinterpret program as you want, we've now added selection of payment method to your Dashboard (SUI).
Now, if you want to change (or update) your payment method, you can just log into your Webinterpret account and do it. Just a couple of quick steps, and you're done. As per most account requirements, a single payment method has to be selected, and multiple payment methods are not available simultaneously i.e Credit Card & PayPal (or any other combination) cannot both be active at the same time.
No need to contact us to make payment changes for you, and no need to wait if you need to sort out payments right away. Please note we do recommend making any changes at least 24 hours prior to a payment/invoice date.
Below, we'll guide you through the payment method selection process step-by-step, so if you want or need to change it, you can do so whenever you choose:

1: Once logged into your SUI/Dashboard, go to the Profile page and into the section named ''Financial Details''. Here it will display your current payment method and applicable accompanying information (i.e billing address, registered company name etc).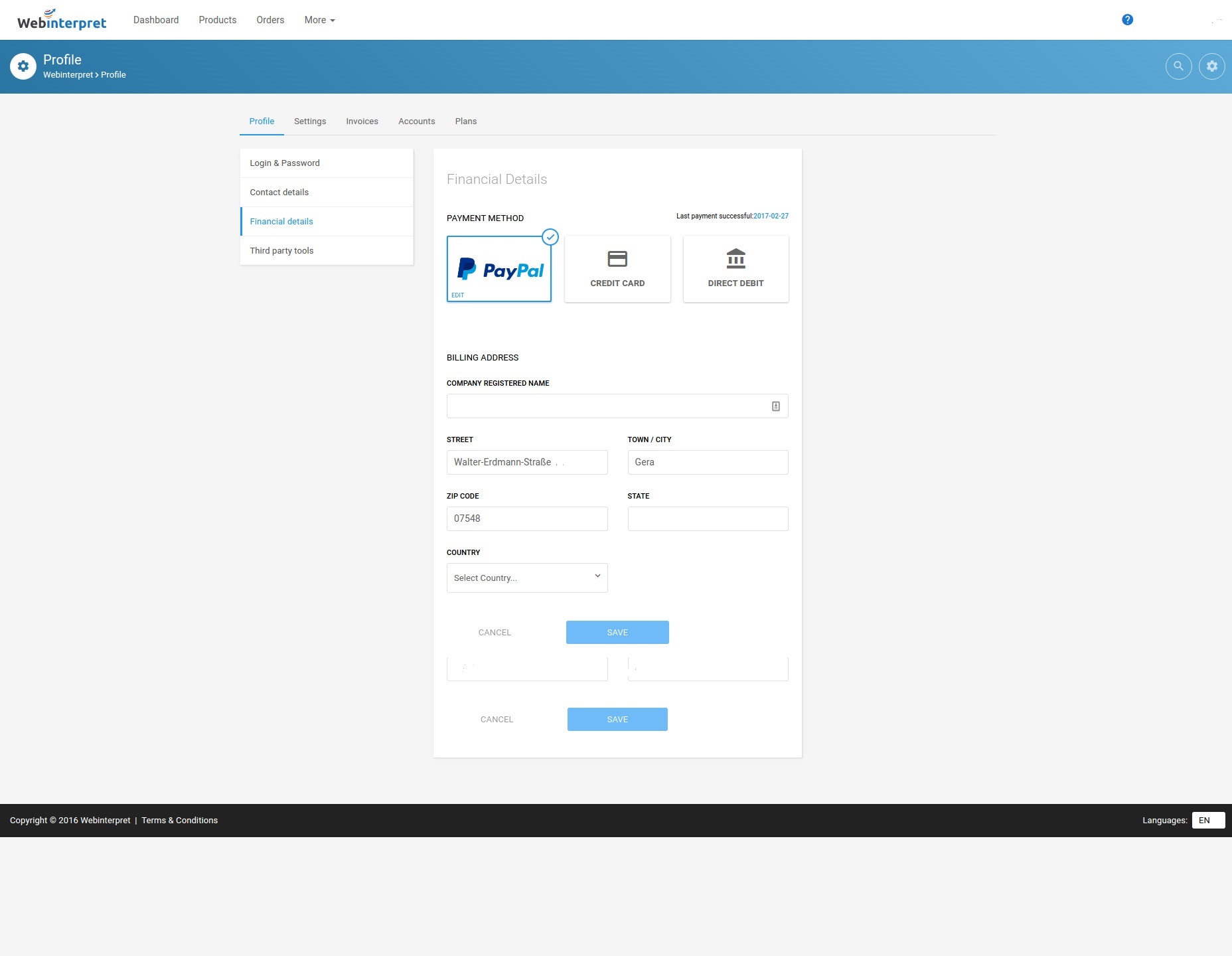 2: To select a new (or update an existing) payment method, click on the method of choice. This can be Credit Card, PayPal or Direct Debit.*
*Please note Direct Debit is available for European Countries and is not available for US Sellers.
Once the selected payment method is clicked, you'll see a pop-up message appear (in this case updating or selecting PayPal as the method chose), just checking that you want to proceed with changing your payment method.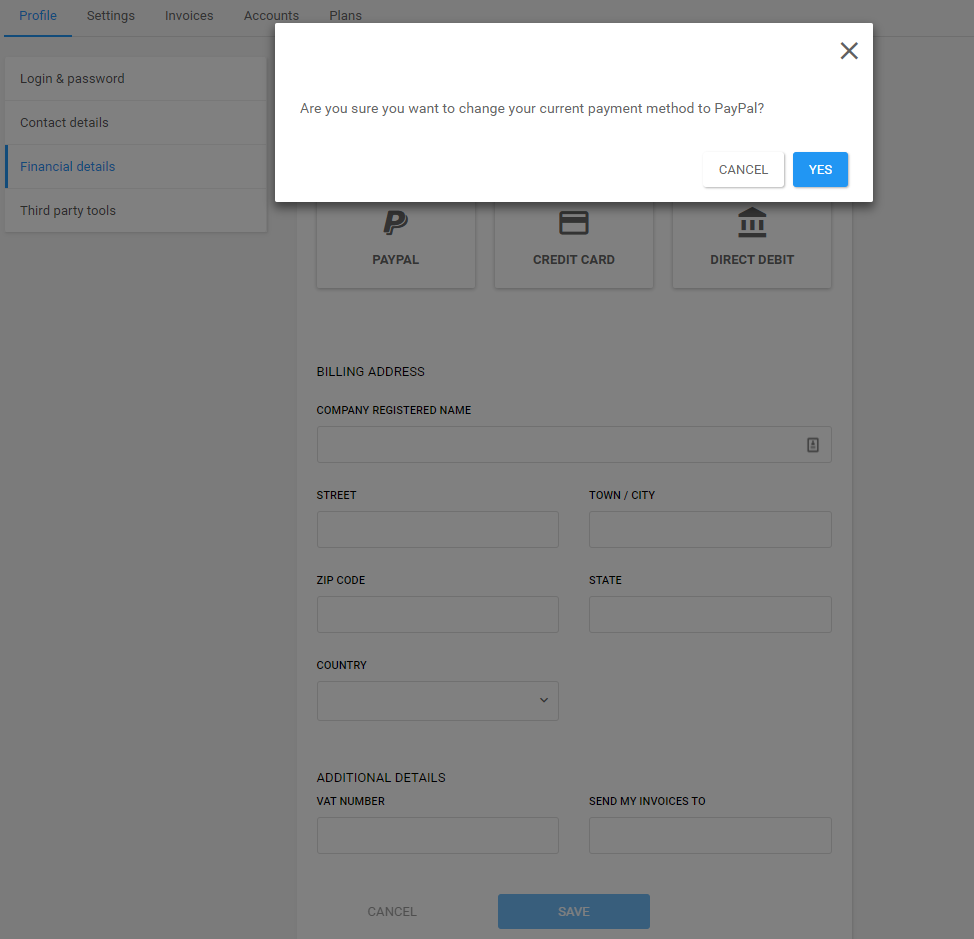 To change Payment Method to Direct Debit:
As per above, log into your Seller User Interface (SUI) and click on Financials. Once
there, select ''Direct Debit'' as the chosen Method of Payment. A box will then pop-up with the necessary fields to populate, as shown below: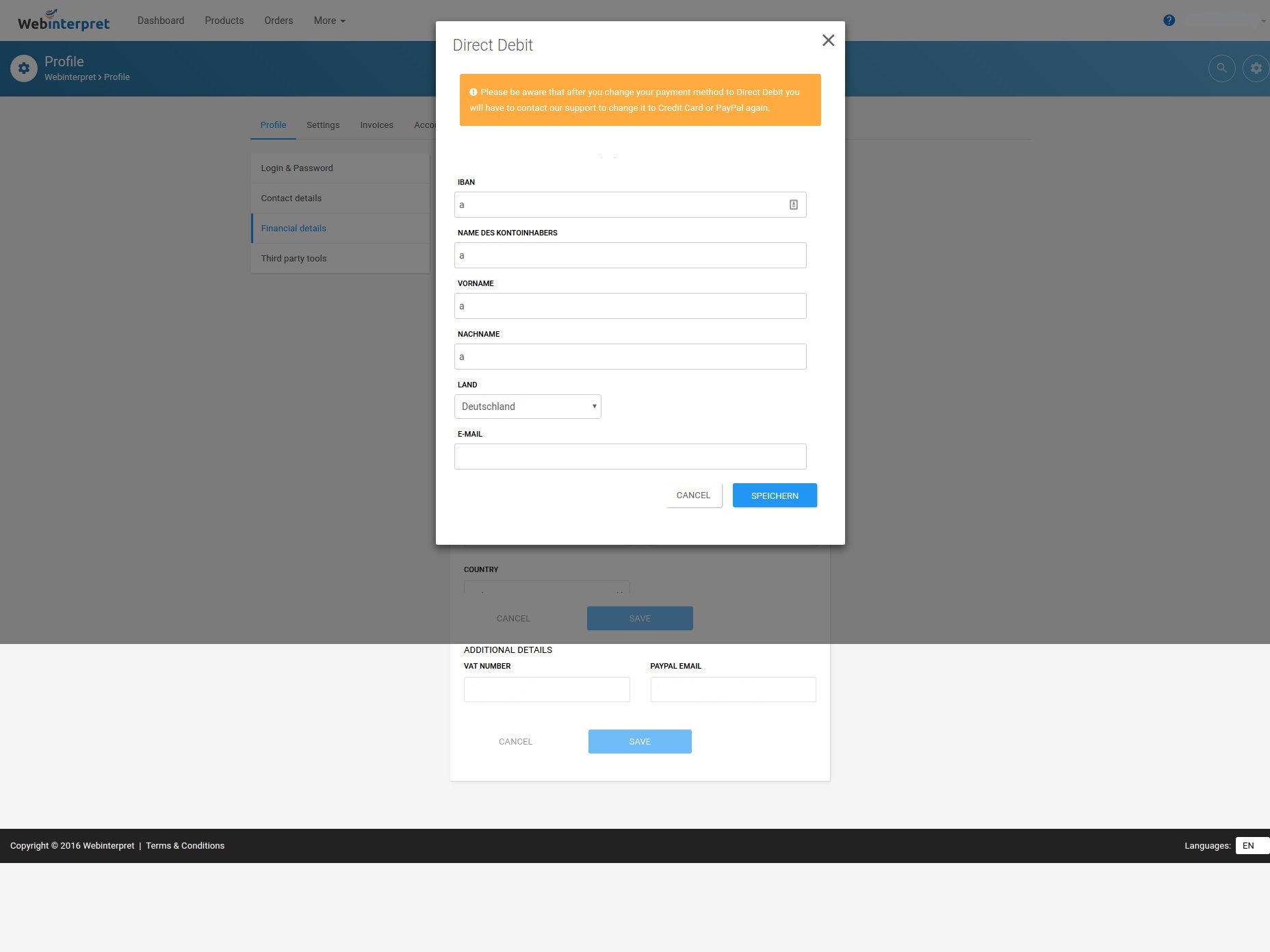 Once you have populated the required fields with your information, click on the ''Save'' button, and (if successful) you will now see ''Direct Debit'' as your chosen (new) Payment Method in this section: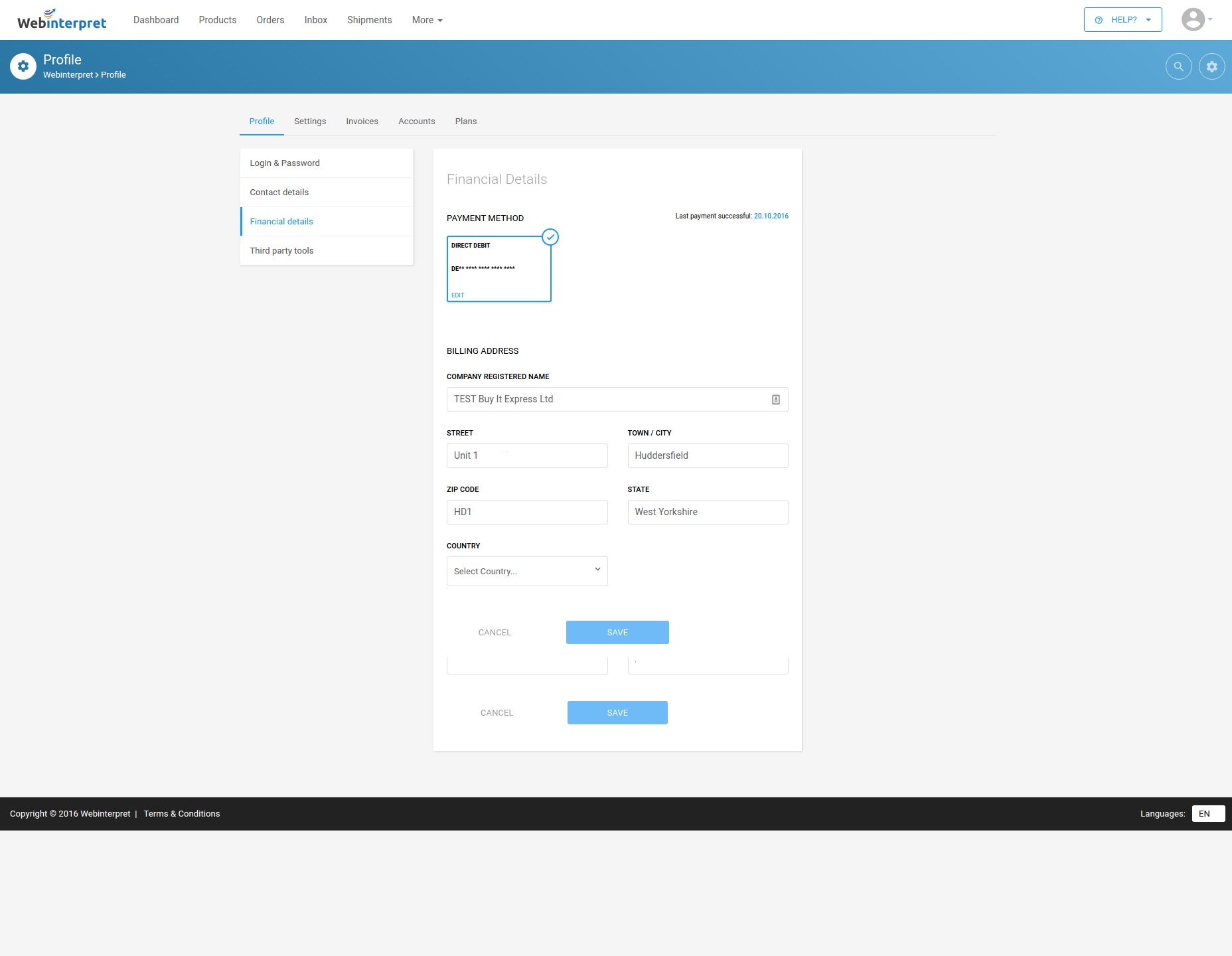 Please note, once Direct Debit is selected, you cannot then change payment method to Credit Card or PayPal directly. In case of wanting to change from Direct Debit to another payment method, please contact our Customer Care who will make the necessary changes for you.
To change (or update) Payment Method to PayPal:

As per the screenshot above, once PayPal is clicked and you confirm you wish to either update or change payment method, you will be re-directed to the PayPal login page.
Here, just log in to your account as per normal, and once entered, you will be asked to supply and confirm your account information.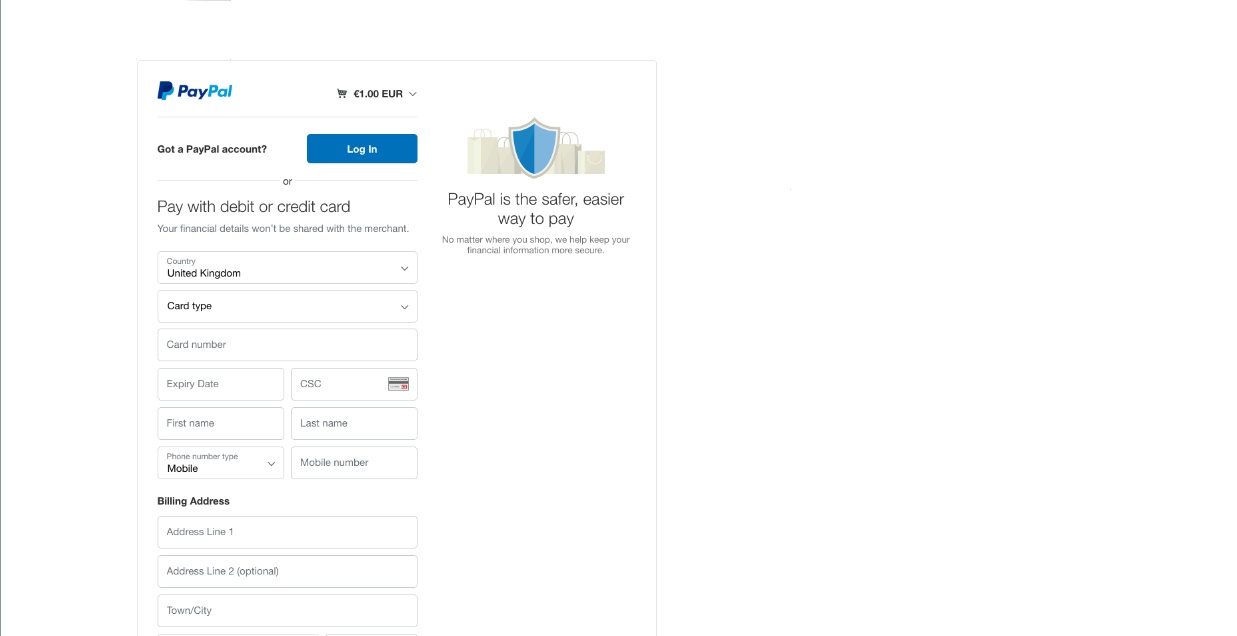 Once the change is confirmed, a pop-up notice will be displayed, stating that ''PayPal is now your primary payment method'' as shown in the image below: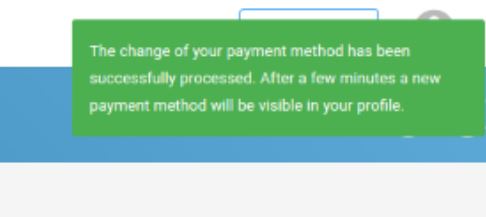 If the attempted change is not successful you will see a pop-up confirming that something has prevented the change, as shown in the image below:

If a change is not successful, please make a second attempt, confirming all account information entered is correct. If you are unable, despite repeated attempts to change or update the method, to do so, please contact us so we can investigate the issue.
To change or update your payment method to Credit Card:

Again, as per above, always Sign into Seller User Interface (SUI), Go to Profile → Financial details and Click on Payment Method: Credit Card (Visa or Mastercard are supported. Currently American Express, although shown, is not supported by our financial system)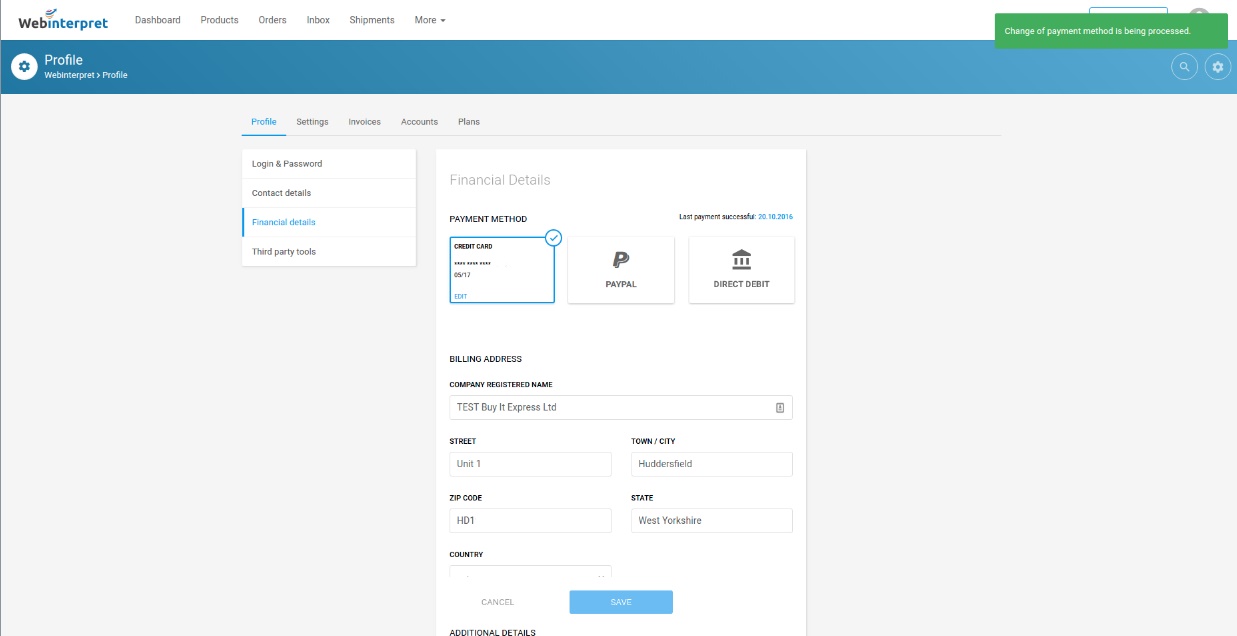 Once confirmed ''Yes'', a pop-up will appear requiring Credit Card selection and necessary information to be provided: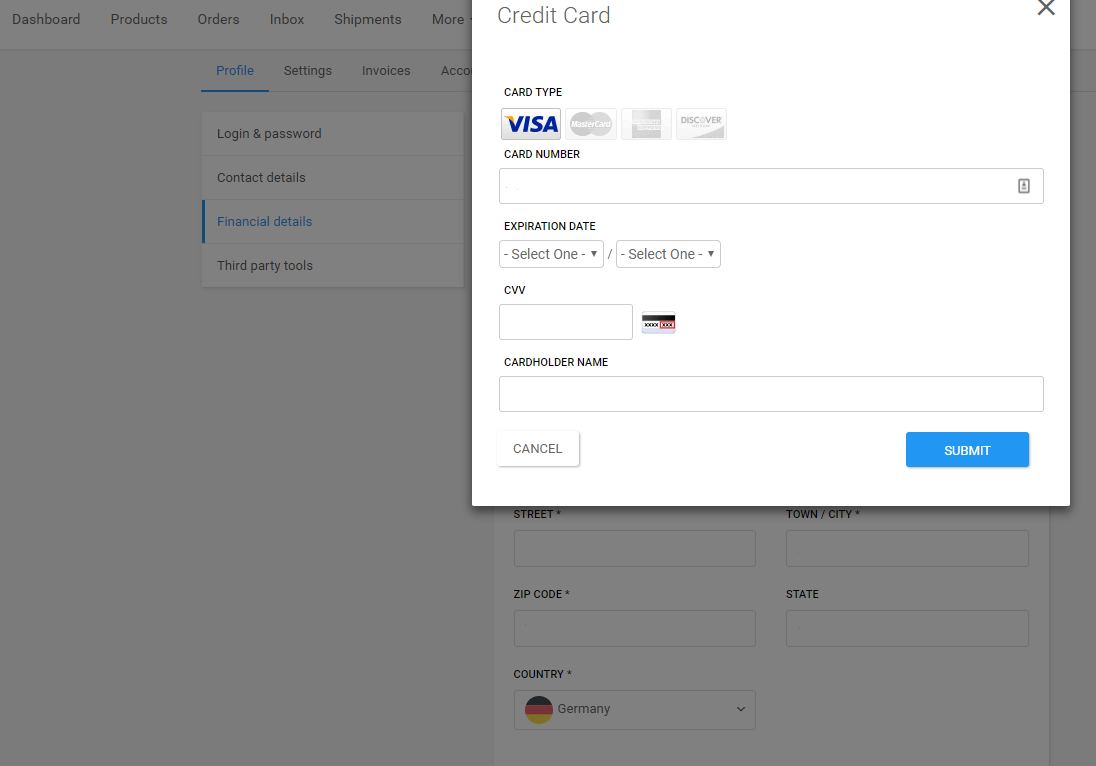 Once the information is provided, simply submit the form and a ''Thank You'' page will appear confirming the process is complete.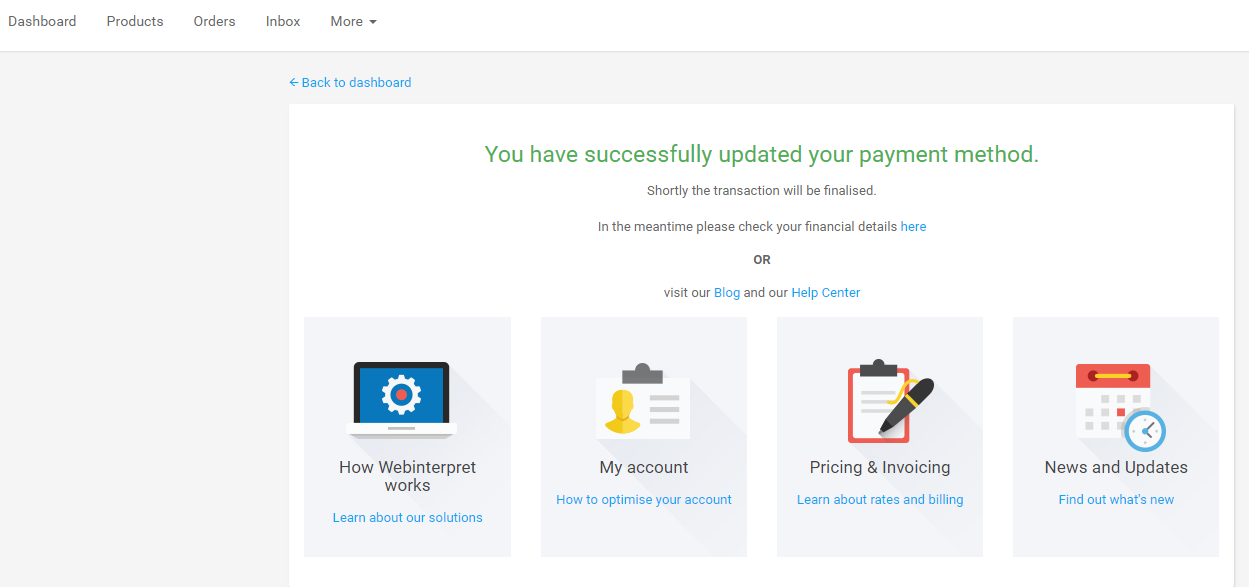 (Please note, the process may take up-to a 2-3 minutes to validate).
Once successful, you will be returned to your Seller User Interface (SUI), and your new chosen payment method will be highlighted for you.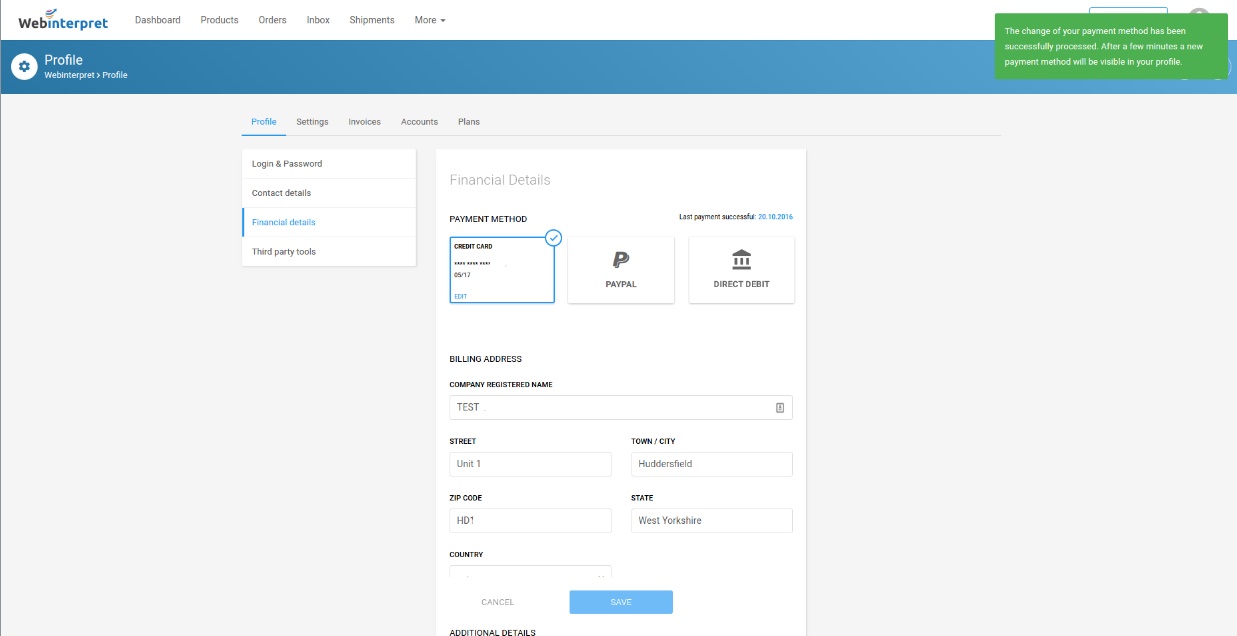 Now, with this new management system in place, you can truly take control over how you select your payment methods. If you need to change to a Credit Card from PayPal, even for a temporary period, you can choose to do so. PayPal to Credit Card, and back again.
If you find you are unable to affect any desired change, or are unable to update a payment method as directed above, please complete our contact form and we can investigate accordingly.
*Seller User Interface is currently available for eBay & Amazon users. Global PayPal sellers do not currently have access to a dashboard as this is managed via a plug-in.