This article explains what ecommerce localization is, how it differs from standard translation, Webinterpret's process for localizing marketplace listings and how you can increase your international sales with Webinterpret's localization service, Internationalization.
Topics in this article:
Definitions: translation and localization
Translation is the simple changing of words and phrases from one language to another. It does not take into account the cultural differences between the people of the countries that make up the source and target markets.
Translation is just one element of localization, which is the adaptation of an object to make it truly local in character. A fully localized online store should be indistinguishable from one originating from that particular culture.
Localization with Webinterpret
Why not translate using real people?
Human translation is slow, expensive and can cost around $0.10 per word. An average product listing consists of 100 words. If you have 1000 products, and you wanted to translate them into 4 different languages, this would cost you around $4000.
Webinterpret uses an AI-based natural language processing solution to deliver affordable, automated human-quality translation. Using an automated solution is a realistic, sustainable and scalable approach to achieving ecommerce localization.
Our process
Example: Localizing a UK marketplace listing for the France marketplace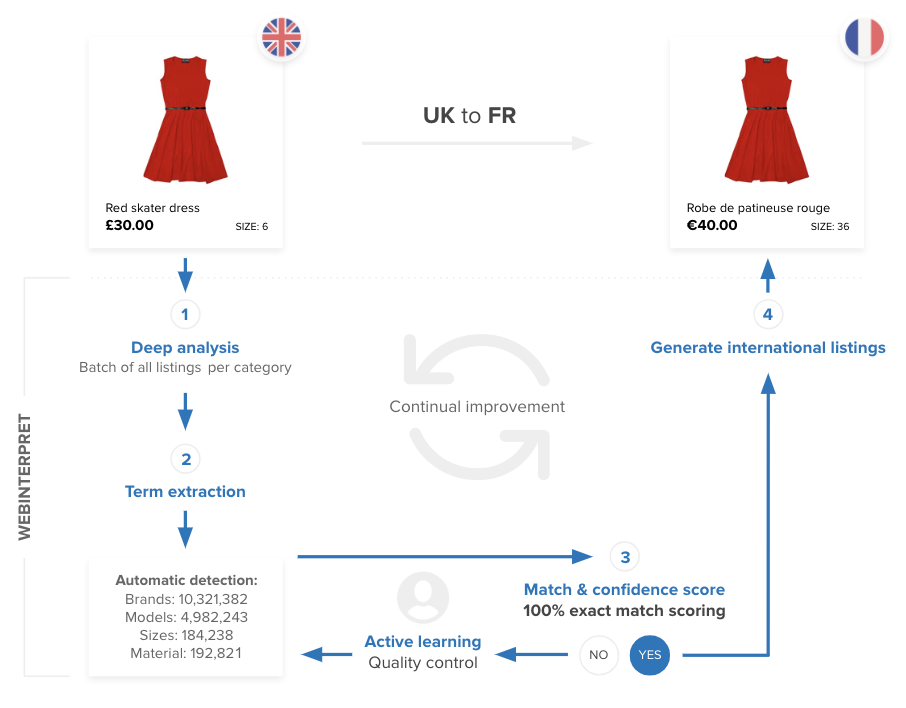 Visit our website's ecommerce translation page for more in-depth information about our localization process.
Internationalization: how Webinterpret's localization service can increase your ecommerce sales
Webinterpret AI-based natural language processing solution translates over 100,000 products every week. With every new translation, our system becomes better at translating and localizing products.
Our Internationalization service allows eBay and Amazon sellers to expand their domestic store into 13 international marketplace channels (9 international eBay marketplaces, 4 international Amazon marketplaces), all at the touch of a button. Sellers can access more buyers than ever before and receive an optimal return-on-investment for their online business.
Service benefits:
Increase product visibility:

Your products will appear higher among search results thanks to Webinterpret's localization technology, optimized for SEO and increasing conversion.
Zero upkeep and maintenance:

Webinterpret ensures listing descriptions, prices, inventories and shipping options are synchronized in real-time across all marketplaces you choose to list on.
All in one place:

Maintain complete control of international listings through one intuitive dashboard, equipped with the most relevant sales metrics to track your growth.
Hassle-free international compliance:

Local marketplace regulations are adhered to, non-compliant products are blacklisted per marketplace and local tax rules are automatically applied.