Learn about the new French Packaging Act (part of the Extended Producer Responsibility regulations). Here you will find information on who needs to register their business under this law and what you have to remember about while selling on the French market.
Topics in this article:
Introduction: Extended Producer Responsibility
If you sell products on the French market, you are obligated to comply with the Extended Producer Responsibility regulation (Responsabilité Élargie du Producteur).
This environmental law is part of a bigger initiative started by the European Union called the EU packaging waste directive that aims to reduce landfill waste and increase recycling. Under this law, manufacturers, importers as well as eBay and Amazon sellers are responsible for the life cycle of the products they sell.
The packaging license is required in the country where the packaging ends up as waste. Since there's no unified recycling scheme, having a license from one country (for example Germany) does not mean you can sell to France without required registration.
Who needs to register under this law?
You need to register with the French recycling scheme if you:
1. Are a French business, or
2. Sell cross-border to France.
If you sell more than 10 000 products a year and the packaging you use contains paper, plastic, wood, glass or aluminum, you have to:
Declare the amount of packaging you're going to send to France in a year.
If you sell less than 10 000 products a year, you have to:
Pay 80 euros annually to a French recycling company.
French Packaging Act registration
1. Register in a Producer Responsibility Organization (PRO)
The following three PROs are authorized for sellers within the Extended Producer Responsibility (EPR) framework. A full list of the authorized organizations (per product category) can be found in a PDF attached at the bottom of the article.
Citeo: https://www.citeo.com/membership-and-unique-identifier?mtm_campaign=popin_uin
Léko: https://producer-app.affiliate.leko.eco/http://producer-app.affiliate.leko.eco/affiliate
Adelphe: http://adelphe.fr
2. Your PRO will conduct your registration to SYDEREP
3. You will obtain your Unique Registration Code (UPIN)
4. Provide the code to platforms that require it (for example eBay or Amazon)
Unique Registration Code
Unique Registration Code (also called Unique Product Identification Number, UPIN or SYDEREP number) is a number provided by a French environmental agency ADEME to all companies that are compliant with the French recycling laws.
If you're listing an item from an EPR category on eBay, make sure you include the required Unique Registration Codes (UPINs) in the following fields:
Eco Participation Fee

Producer Product ID

Product Package ID

Shipping Package ID (if applicable)

Product Document ID (if applicable)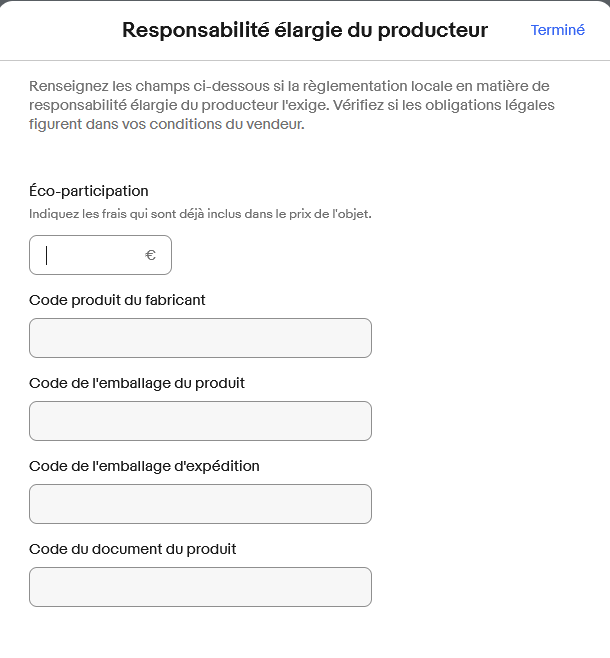 How to be compliant
The account level experience for EPR France has been released on eBay, which means that UPIN codes need to be added in your eBay account settings. Starting from July 2023 the required information can be added directly through this link, which works for all eBay sites.
1. Go to My account settings page: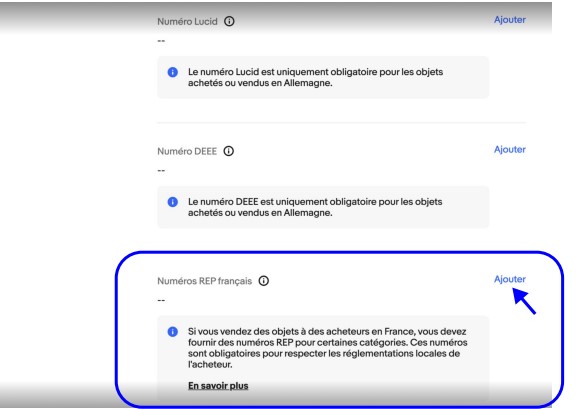 2. EPR FR Number page: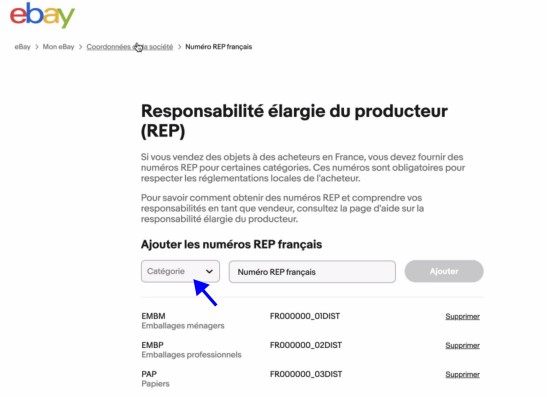 3. Page will show you error if you enter an invalid ID: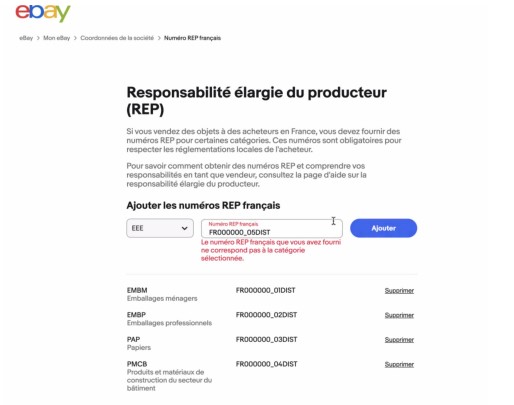 4. EPR FR Confirmation/Check: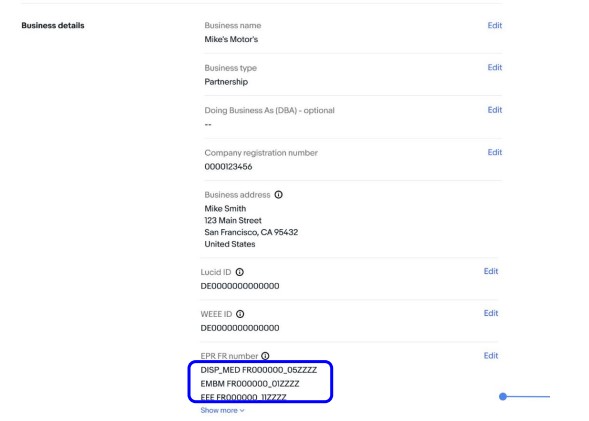 You can read more about Extended Producer Responsibility on eBay here.
Amazon and eBay require this number from sellers. If you don't provide EPR information, you may end up getting fined or blocked from selling.
If you would like to find out more, see the attached FAQ.
How to check if the UPINs were applied on French listings
If you would like to double-check, if the UPINs were applied on your French listings, please remember that this info is not visible for the buyers! To access the EPR fields please follow those steps:
1. On www.ebay.fr choose to edit an existing listing (which you've added to the Webinterpret uploader): click on Selling (Mes ventes), or go to the Listing tab (annonces) in Seller Hub (Hub vendeur).
2. Go to the Seller Disclosures (Conditions du vendeur) section and click Select your conditions (Sélectionner vos conditions).

3. Choose Extended Producer Responsibility (Responsabilité élargie du producteur).
4. UPINs you've added on the csv file uploaded with Webinterpret will be visible in the corresponding field: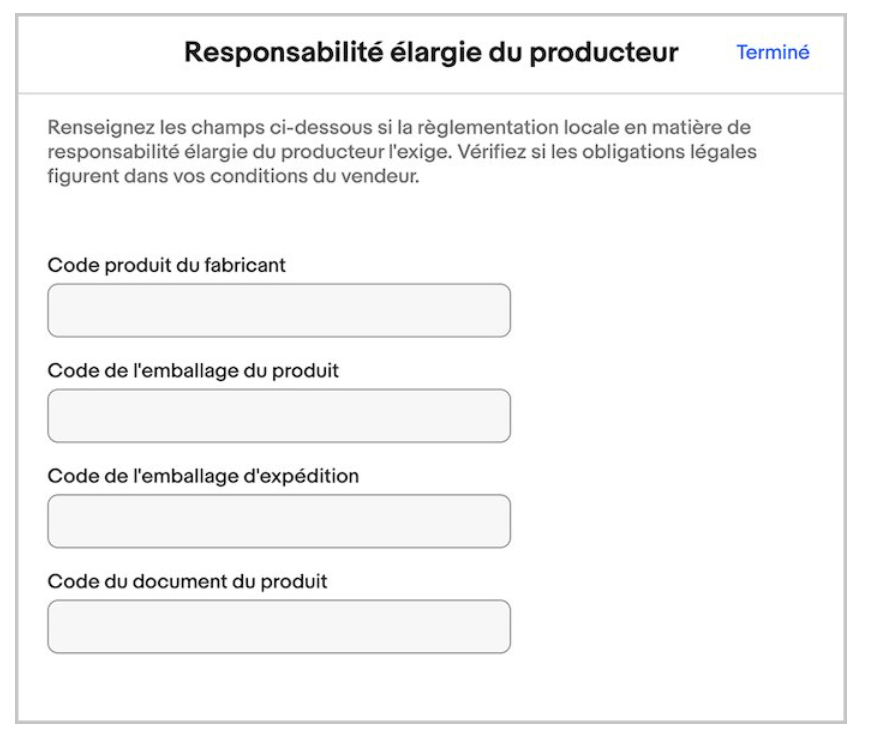 Sources:
https://www.ebay.de/verkaeuferportal/news/verkaeufer/2022-september/epr-frankreichExtended Producer Responsibility for business sellers
Packaging law in France: a guide for e-commerce
Complying with the French packaging law: done in no time!