This article explains how to start using Promoted Listings Standard for your domestic items with Webinterpret.
Topics in this article:
What are the conditions and how does it work?
You can find all details regarding eligibility criteria and visibility of your items in the article Essential FAQs for Promoted Listings.
What is the cost of promoting your items (domestic items)?
We are offering a one-month free trial, where no additional fee will be charged by Webinterpret.
After the trial period ends, the cost of promoting your domestic items are as follows:
Performance plan subscription: 0.75% per transaction
Marketing plan (individual service selection):£20 (UK customers) or $20 (US customers) per month + 1% per transaction
Please see our articles Essential FAQs for Promoted Listings and Webinterpret Pricing Plans for more information about pricing.
How to start promoting your items?
If you are already using Promoted Listings with us, you can log in directly to your Webinterpret Dashboard, click on Marketing at the top of the Dashboard, and you will see an invitation to start promoting your items with us: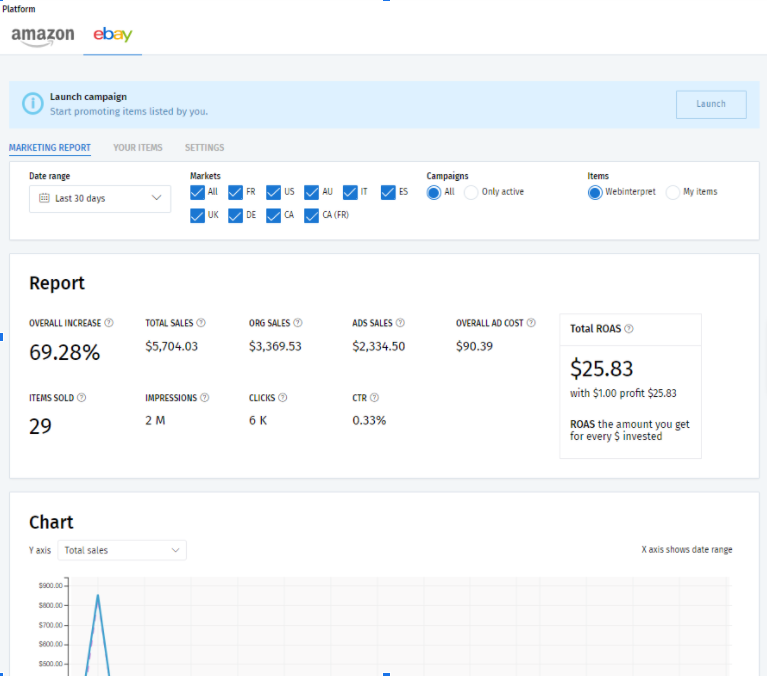 You can set up campaigns for your domestic market (and preferred international markets) with your preferred ad rate.
We recommend using our Smart strategy ad rate for best results. More information on available ad rates can be found in our article Managing your Promoted Listings ad rate.
You will need to accept the Terms and Conditions for each marketplace you wish to use Promoted Listings in. Once they are accepted, we can begin to set up your campaigns: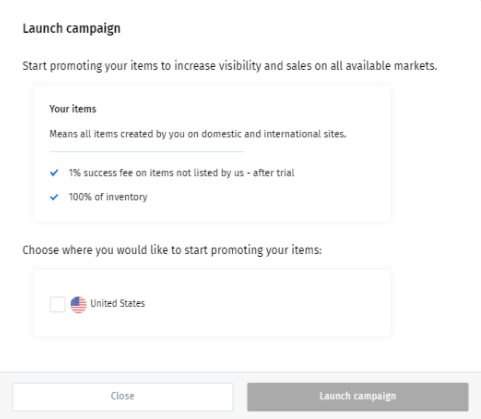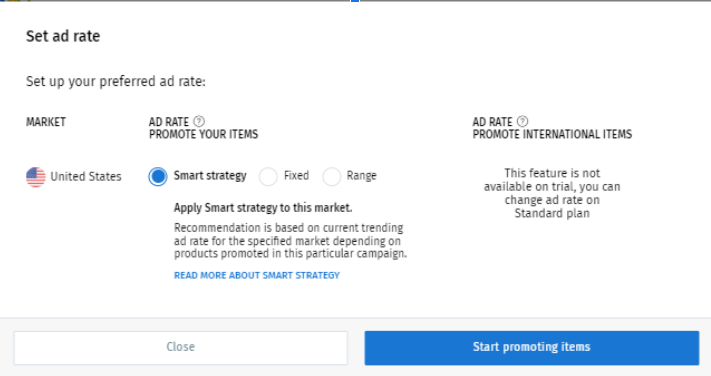 Campaigns will be visible for your items within 24 - 48 hours, once the Terms and Conditions have been accepted.
If you are not already using Promoted Listings Standard with us, please refer to the article Get started with Promoted Listings Standard.