Learn how to start promoting your items (domestic items) with Promoted Listings Standards, including the plan options for enabling the domestic service.
Topics in this article:
Plan options for using Promoted Listings Standard on your items (domestic items)
Webinterpret currently offers a one-month free trial for Promoted Listings Standard (on your domestic items) where no additional Webinterpret fee is charged.
After the one-month trial period ends, the cost of promoting your domestic items depends on the selected plan:
Performance plan subscription: 0.75% per transaction
Marketing plan (individual service selection):£20 (UK customers) or $20 (US customers) per month + 1% per sponsored ad transaction
See Webinterpret Pricing Plans for more information about pricing.
How to start promoting your items
Note: If you are not already using Promoted Listings Standard with us (for your international Webinterpret listings), please refer to the article How to sign up for Promoted Listings Standard to get started.
1. Log in to your Webinterpret Dashboard and click Marketing at the top of the Dashboard. From there, you will see an invitation to start promoting your domestic items with us: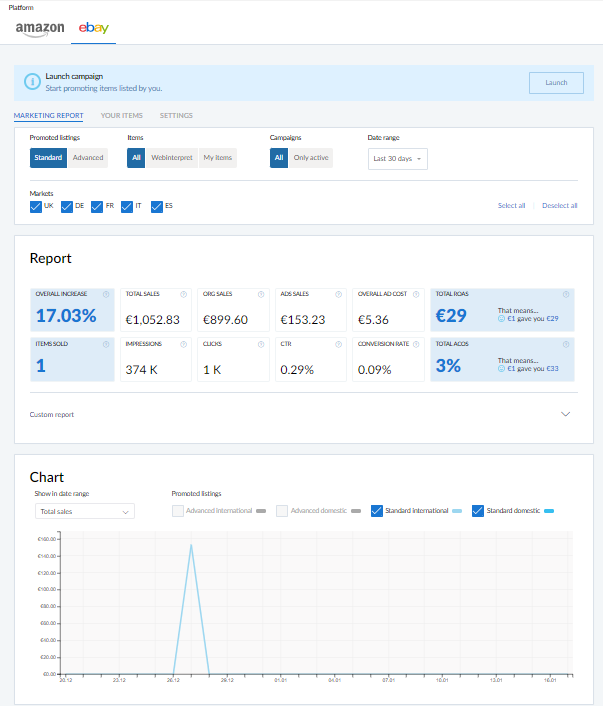 2. Click Launch to begin the setup process for your domestic market ad campaigns, starting with your preferred ad rate.
Note: You can also set up your preferred international markets at this time if you have live international listings with Webinterpret.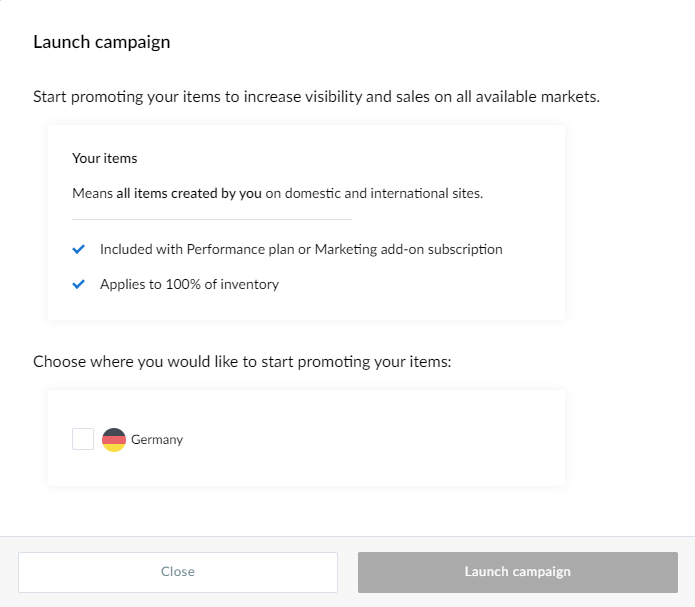 3. Select an ad rate. Webinterpret recommends selecting our Smart strategy ad rate for best results. See Managing your Promoted Listings ad rate for more information about the different ad rate options.
IMPORTANT: If you are already using Promoted Listings Standard on your items, your active and paused campaigns must be ended. As per eBay's Promoted Listings Standard policy, items cannot be promoted in more than one campaign at a time. You can end them manually, or allow Webinterpret to end them on your behalf (select the box at the bottom of the page).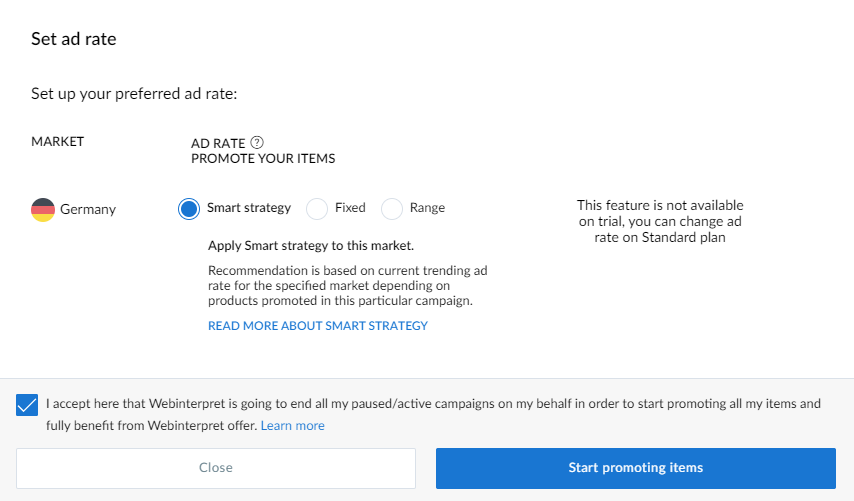 4. Accept the Terms and Conditions for each marketplace you wish to use Promoted Listings Standard in. Only once they have been accepted can Webinterpret begin setting up your campaigns.
Campaigns will be visible for your items within 24 - 48 hours after the Terms and Conditions have been accepted.