This article will provide basic guidance on your Promoted Listings feature, and answer essential frequently asked questions such as what items can be included in a campaign, what can I expect from my campaign, and what costs are involved:
1: Which/what items can be included in any promotion
To be eligible for the eBay Promoted Listing program, a product should meet eBay prerequisites which are as follows:
The listing(s) must be a fixed price (Buy It Now) item

The listing(s) must be a multiple-quantity listing, therefore cannot be a single quantity listing

The listing(s) must be in one of the categories that support Promoted Listings (more information available from eBay here)

The listing(s) cannot be within the categories of real estate or motors
2: How and where will my Promoted Listings be visible on eBay?
Promoted Listings will be featured prominently via Buyer searches, Sponsored modules on listing pages & via My eBay, which will include sold or ended items, product results pages and more. The graphic below demonstrates how and where the Promoted Listings will have increased visibility to Buyers: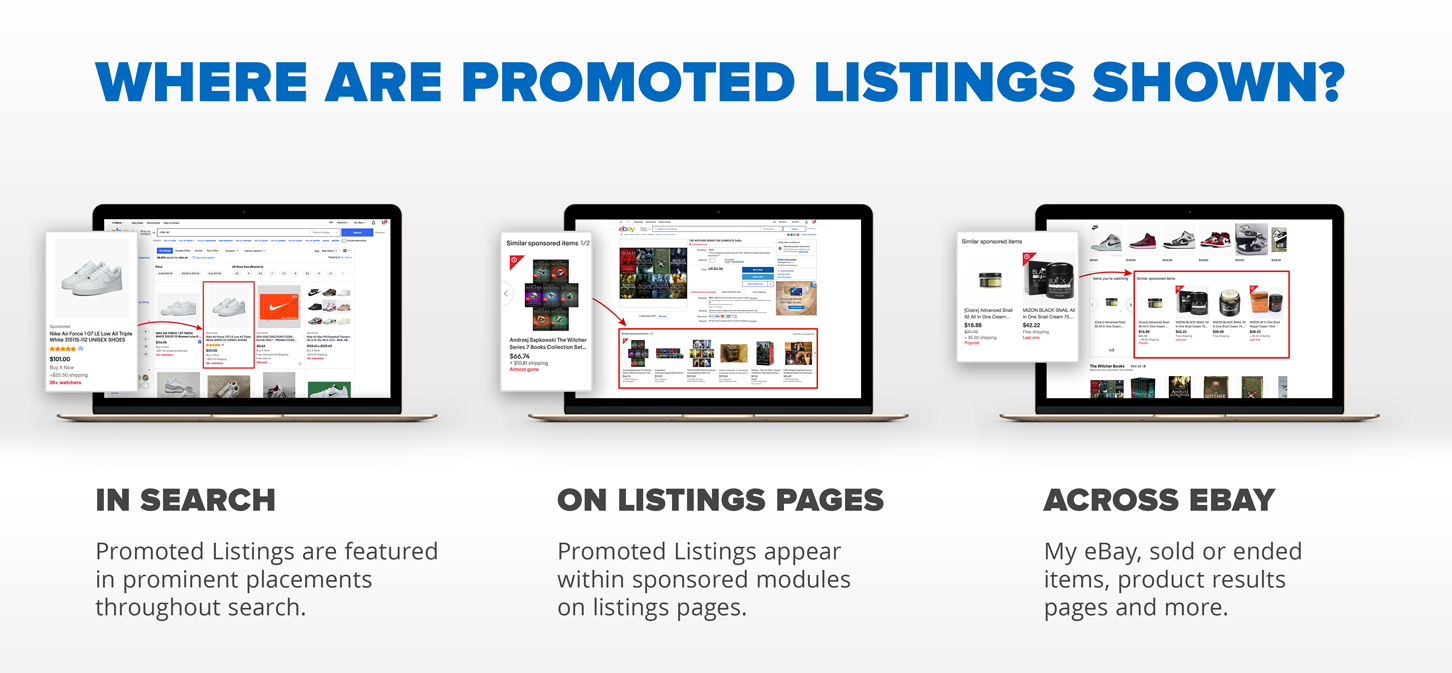 3: How does Webinterpret select those products from my listings that will be included as part of any promotion:
Webinterpret follows the basic eBay prerequisites presented above. Our algorithm selects items from the eligible listings and kick-off a learning phase based on success rates. Based on results, adjustments will be made to consistently achieve the highest success rate.
4: Do I need to accept the Terms and Conditions for each of the specified marketplaces in order to start a Promoted Listings campaign?
Yes, for each specific marketplace for which you would like to activate promoted listings, agreeing to that marketplace's Terms and Conditions is required. Without this approval, we can not start any Promoted Listing campaigns. As with International sales in general, please bear in mind that the more markets you advertise in, the likelier the increase in both listing visibility and ultimately sales.
5: Once I have agreed to the required Terms and Conditions, when can I expect to have active Promoted Listing campaigns?
Promoted Listing campaigns are typically activated within 24-48 hours of Terms and Conditions approval.
6: Where can I monitor my campaigns and results?
Within your Webinterpret SUI, you can view campaign performance and metrics such as overall total sales, ad costs, and even impressions (views and clicks). Check this article that provides a deeper breakdown of accessing your reporting.
7: How does Webinterpret decide on the number of Promoted Listing campaigns and subsequent listings?
eBay specifies a limit of 50 thousand items per campaign. As a result, we create as many campaigns as are required to Promote your Listings based on the most relevant data.
8: What percentage rate is applied on listings?
If you are a current subscriber to our Promoted Listings feature, you can now manage your Ad Rate percentage directly from within your Seller User Interface (trial Sellers will need to upgrade to the full feature to have access to the Ad Rate Manager, to check eligibility, log into your SUI).
Any Ad Rate is currently based on the default recommended percentage (as supported by eBay), which is between 1% and 3.5% per campaign.
With your new Ad Rate Manager, you can now select the percentage of your choice, depending on your desired budget and marketplace location. This is important as now you can choose to focus and increase Ad Rate on specific marketplaces, whilst (for example) utilizing the recommended Ad Rate on other marketplaces.
For additional info on our Ad Rate Manager, check our guide here.
9: What is the cost of the Promoted Listings feature once the Free Trial expires?
There is no cost associated with the service as such. During the Free Trial, we cover the ad cost for you, by providing a credit for those ad fees charged by eBay. Once the Free Trial expires, the feature reverts to our standard version which does not provide a credit for those eBay ad fee charges. This means you will cover the ad cost charged by eBay but we do not add any additional fees for using our service.
Any commission fees associated with your subscribed rate plan are entirely separate from the Promoted Listings feature and remain as is.
10: During the Free Trial, how does the refund process work?
A credit will be provided on a monthly basis during the Free Trial and will appear as such on your monthly invoice.
11: Will my Free Trial automatically end after the initial 2 months?
At the expiry of the Free 2-month trial, you don't need to take any action to continue with the Promoted Listings feature, we will simply keep your campaigns active and you will then be a part of the non-sponsored eBay Promoted Listings plan. This simply means that we will stop the refunding of ad costs that were offered within the Trial.
Once the Free Trial expires, we do not apply any additional service fees.
12: Can I select the listings which are to be part of a Promoted listing campaign?
Currently, your campaigns are non-customizable as far as individual listings are concerned. As stated above regarding amending ad fees, this feature will be available once implemented and will be managed from your SUI along with campaign performance(s), sales reports, and other data.
13: Can I end active campaigns?
You can manage your campaigns by closing or pausing markets any time you want to do it. Please refer to this article for more information.