Promoted Listings Standard FAQs:
Which items can be included in a campaign?
To be eligible for Promoted Listings, a product should meet eBay prerequisites which are as follows:
The listing(s) are a fixed price (Buy It Now) item

The listing(s) are in one of the categories that support Promoted Listings (see the eBay article

Categories that support Promoted Listings

)

The listing(s) are not within the categories of real estate or motors

The listing(s) are not already being promoted (items can only be included in one campaign at a time)
For more information, see Eligible countries and criteria for Promoted Listings.
Where are campaigns visible on eBay?
Listings promoted using Promoted Listings Standard will be prominently featured through buyer searches on the marketplace, sponsored modules on listing pages, and through My eBay (including sold or ended items pages, product results pages and more).
The graphic below shows where and how Promoted Listings Standard will have increased visibility to buyers on eBay: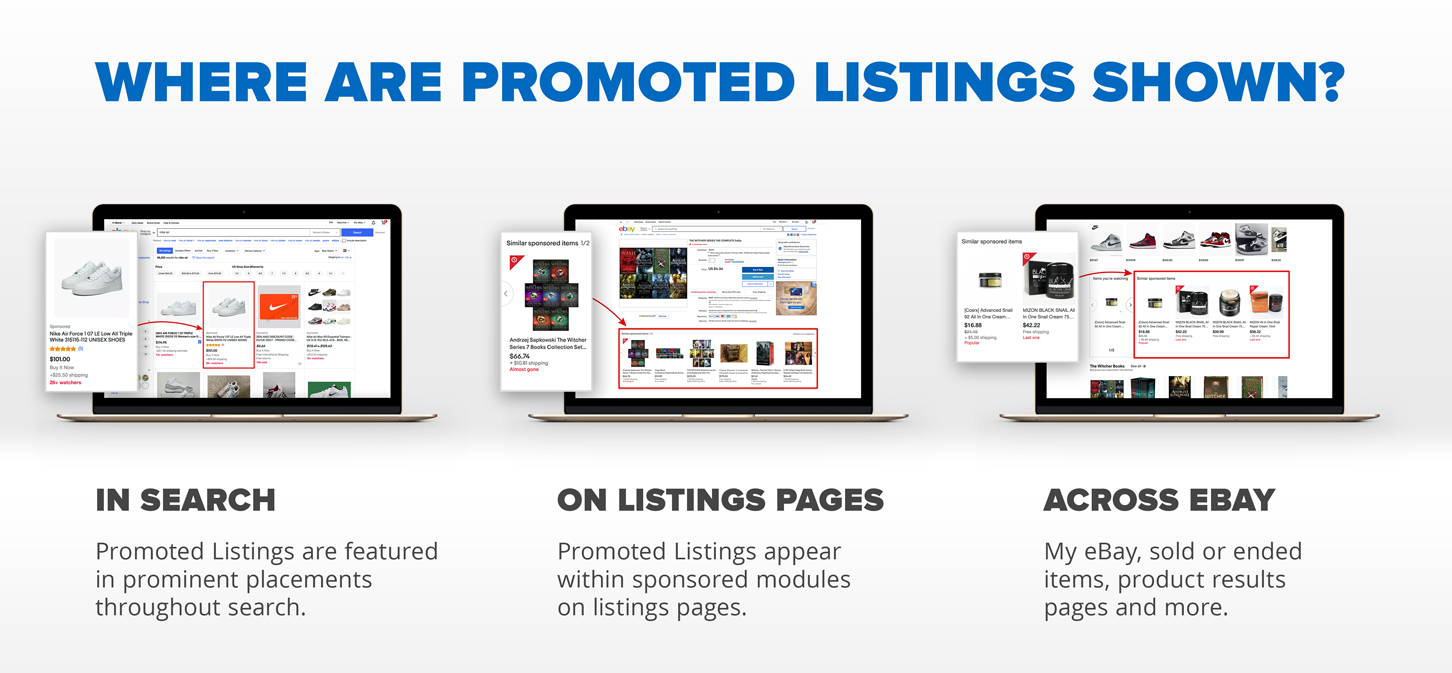 How does Webinterpret select products to include in a campaign?
Webinterpret follows the basic eBay prerequisites described above.
Our algorithm selects items from your eligible listings and promptly kicks off a learning phase based on success rates. Based on these results, adjustments will be automatically made to consistently achieve the highest success rate.
Why aren't listings being shown in my Promoted Listings campaign, but they are present in my inventory?
If you already promote these items by yourself (those from your domestic eBay market), we cannot also sponsor them through the Webinterpret Promoted Listings Standard service. Items can only be promoted through one Promoted Listings Standard campaign at a time.
Do I need to accept the Terms and Conditions for each marketplace to launch a campaign?
Yes. For each marketplace you wish to activate Promoted Listings Standard in, agreeing to the Terms and Conditions for that specific marketplace is required. Without this approval, we cannot launch a Promoted Listings Standard campaign.
As with international sales (in general), please bear in mind that the more markets you decide to advertise in, the likelier the case that you will see an increase in both listing visibility and sales!
Once I have accepted the Terms and Conditions for each marketplace, when can I see my campaigns?
Promoted Listings Standard campaigns will begin within 24-48 hours of approving a marketplace's Terms and Conditions.
Where can I monitor my campaign results?
From Marketing Dashboard, you can view your campaign metrics and performance, such as overall total sales, ad costs and impressions (i.e. views and clicks).
See How to access and view reporting for Promoted Listings for a deeper breakdown.
How does Webinterpret decide how many campaigns and subsequent listings should be made?
eBay specifies a limit of 50,000 items per campaign. As a result, we create as many campaigns as are required to promote your listings based on the most relevant data.
What ad rate percentage is applied to listings?
You can now manage your ad rate percentage (%) directly from your Marketing Dashboard using the Ad Rate Manager.
See How to manage your Promoted Listings Standard ad rate for more information about the different ad rate options, and how to apply them.
Can I select which listings are included in a campaign?
Yes. Our Exclusion of Items feature allows you to control which items should not be promoted in your ad campaigns, in the event you do not want to promote all of your listings.
For more information about this feature, see How to exclude your items from being promoted through Promoted Listings.
How do I end active campaigns?
You can end your active campaigns by closing or pausing the associated marketplace. See How to open and close marketplaces for Promoted Listings.