This article shows how you can check sales reports and marketing data for eBay Promoted Listings, direct from your Webinterpret account.
As part of our exciting new feature for eBay Promoted Listings, you can now access full reporting and campaign data directly from your Seller User Interface.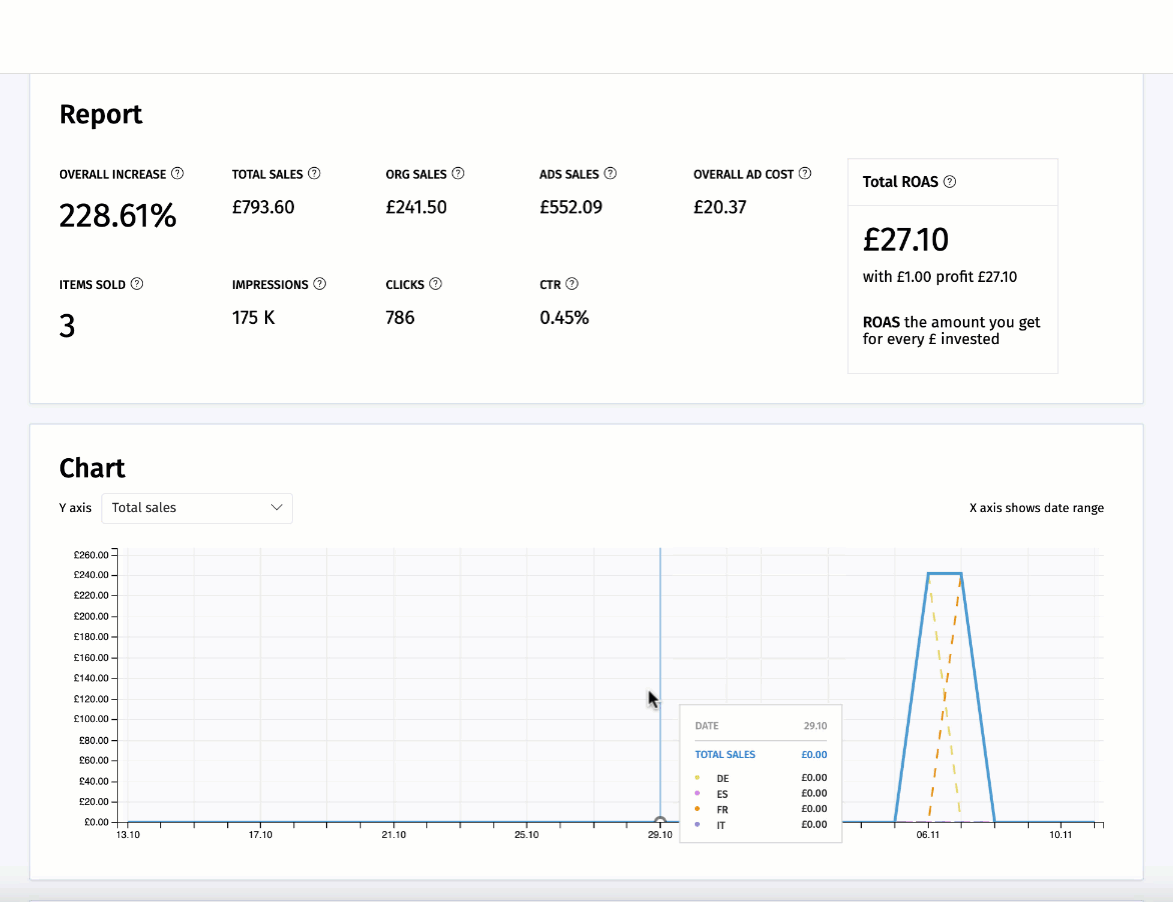 So, first of all, what are Promoted Listings?
As eBay confirms, ''Promoted Listings helps your items stand out among billions of listings on eBay and be seen by millions of active buyers when they're browsing and searching for what you are selling, helping to increase the likelihood of a sale. The best part? You only pay when your item sells.''
Promoted Listings cost as much as you're willing to pay. The ad fee is a percentage of the transaction value (excluding shipping) which sellers agree to pay for the advertising.
eBay has a great FAQ introduction page to provide some essential background to the feature.
So, once you decide you would like to utilize the Promoted Listings feature, log in to your Webinterpret SUI, click on Marketing, and, if eligible, there will be an invitation to Start Free Trial.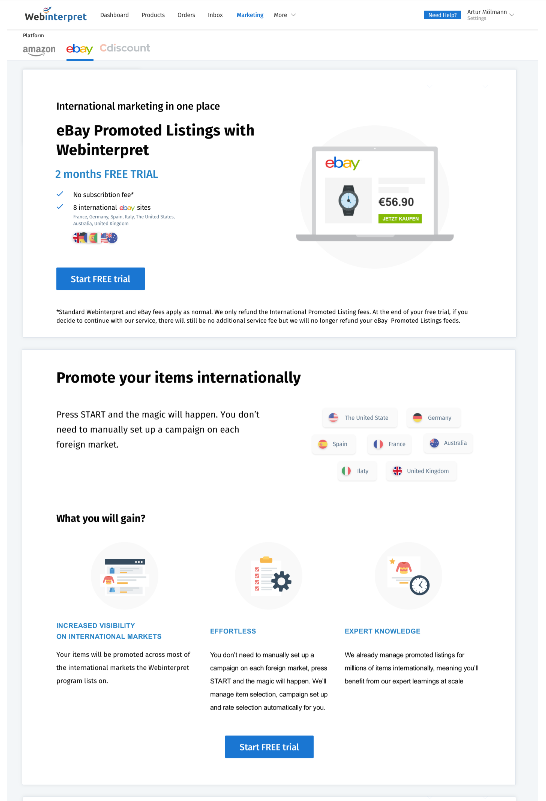 Once you indicate you wish to add the feature, you now need to accept the Terms and Conditions for each marketplace (you need to accept the Terms and Conditions for the individual marketplaces you wish to use Promoted Listings in). Once all is agreed upon, we can get your campaigns moving.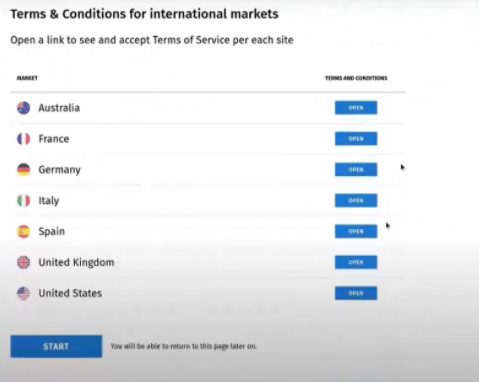 We will remind you if there are marketplaces that you have not agreed to the Terms and Conditions for, as shown below.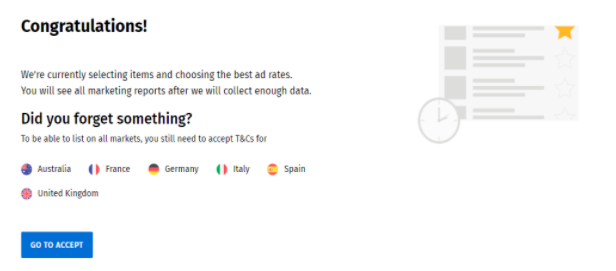 We will now confirm that Webinterpret is creating your Campaigns and Promoted listings will commence within 24 hours. In the meantime, reports and other promoted listing views will not be available: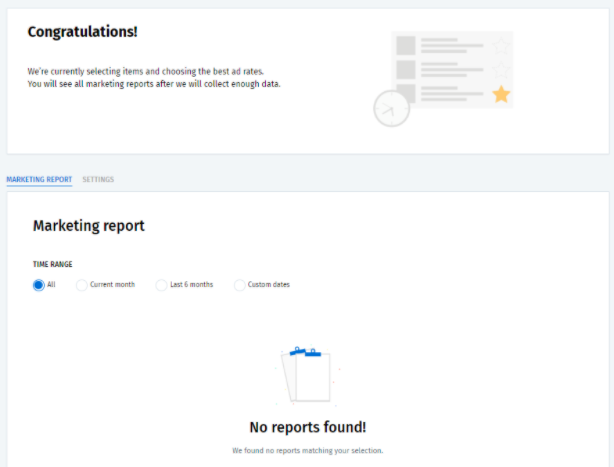 Once your Campaigns are set up, you now have full access to see how they are performing and can view these in different ways, such as All Campaigns, specific Countries, and time periods, as shown below: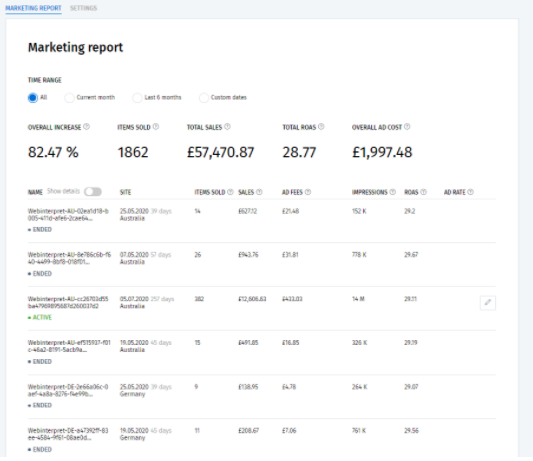 There are 3 stages during which your access to the feature will be titled, as shown as per below:
Trial - Trial Date Commenced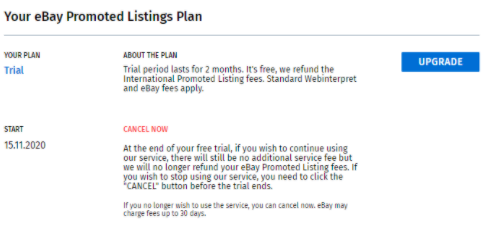 Standard - Plan effective start date (Ad fees will not be credited)

Deactivated - Plan no longer active and includes start and ended dates.

The reports will provide a set of metrics and data for you to keep up to date on any campaign. A list of definitions and explanations are provided below:
Status of Campaign - Active or Ended

Country/Site - The Marketplace the Campaign is/was active

Items Sold - Number of items sold

Total Sales - Total sales for merchandise sold via Promoted Listings (managed by Webinterpret)

Ad Fees - The total amount spent on Ad's in country-specific currency

Impressions - The number of times your Promoted Listings appeared to potential buyers

ROAS - The ''Return on Ad Spend'' of incremental spending, for example, for every 1$ spent on Ads, the revenue received in return.
Access to the reports and all other aspects of managing your International eBay listings is via your SUI
If you wish to find out whether you're eligible for the Promoted Listings feature, or would simply like more information, please contact us here.