This article lets you know how to set up an eBay business account which enables you to sell internationally.
Topics in this article:
eBay business account - general information

As part of eBay's Terms & Conditions, we recommend registering your eBay account as a business account (rather than an Individual/Personal one) enabling listing and selling on International Markets.
To enable listing and selling on International Markets, we'll guide you through the set-up of your eBay business account.
(Registering a business account does not involve any changes to eBay fee structures.)
Registering as a business account - instructions
To register as a business account, please follow the steps provided below:
1. Log in to My eBay. Click the Account tab. Under the My eBay Views section on the left, click Personal Information
2. In the Account Information section, find ''Account type'', and click "Edit" on the far right (a prompt may ask you to sign in again.)

3. On the Change Account Type page, select the Business Account option, and click Confirm to change your account type.
On the following page, you need to enter your business information such as name, contact information etc, when completed, click Save.
4. Now you will see the account type has change from individual to business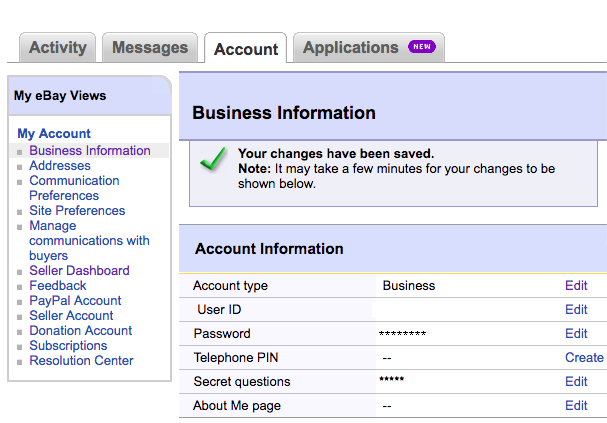 Now that your business account is confirmed, we will proceed in listing any items that were not able to be listed previously.
If at any point you wish to change the name of your eBay store, please contact our Support Team.
For further information on Failed Item Listings or other blockers, please check our FAQ on Synchronization and how to manage and process listing changes.