Video Tutorial - Price Adjustment Tool. Manage your International listing prices, direct from SUI:
First of all, please check out our new Video Tutorial which will guide you through managing all International listing prices, all from within your Seller User Interface. For further information on different methods to set up these rates, continue with the article below:
Please remember to check out our great new Self-Service Video Guides, all in place to get the most out of your SUI
Price adjustment is now available to all eBay customers directly from within your Seller User Interface (SUI).
This function enables you to increase or decrease prices per market at any given time. Based on the percentage selected, we take the original item(s) set price and increase/decrease per selected market.
Once amendments are made, we review and revise your International listings automatically.
Here's how you can adjust your prices as and when you wish:
Login in to your Webinterpret dashboard (https://app.webinterpret.com/login) and select ''more'' from the options displayed on the upper right hand side as shown:

Direct link for eBay tool selection (this is also available for Amazon price adjustments) as follows app.webinterpret.com/tools/price-adjustment/ebay:
Once the correct Platform is selected (if you have both eBay and Amazon, please make sure the appropriate is selected prior to making changes), you will see the markets available for price adjustments.
These are called ''Rules'' and any already in place will be displayed in this column. On the right hand side will be displayed ''Actions'', and this is where you will adjust the + or - percentage according to your requirements. This is shown below: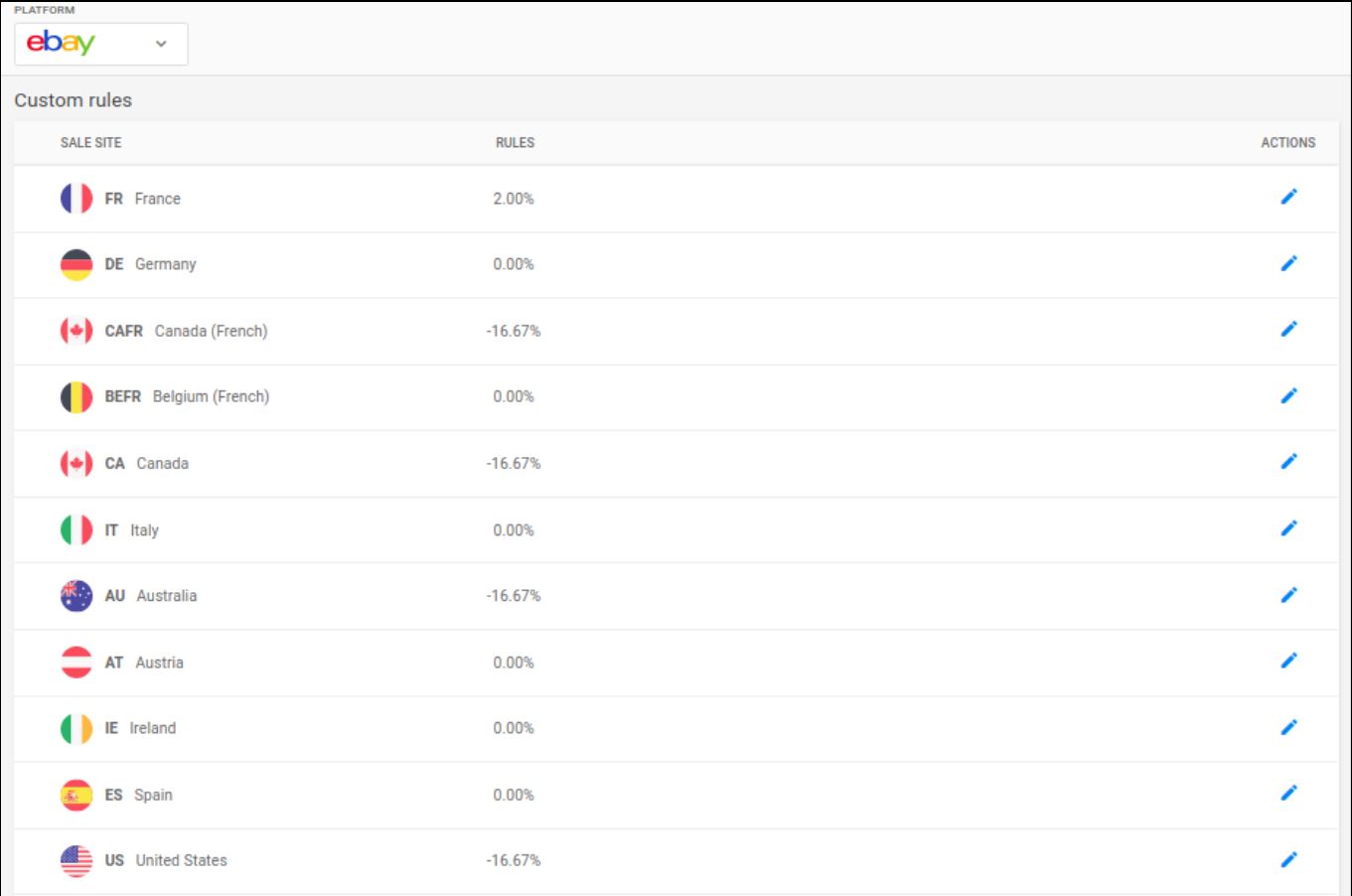 The above is a UK Account and has a varied number of rules in place. For example, an increase in France of 2%, and decrease in both Canada and French Canada sites of 16.67% (Canada here has been reduced by a specific percentage of 16.67%. This is simply because its a non EU country and VAT is not applicable, therefore the set price is the same as in the UK, just excluding the VAT).
Initiating Price amendments are pictured below: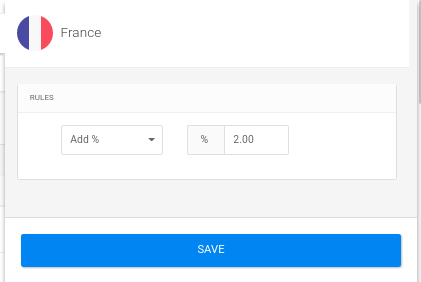 Once the rule is in place, simply Save the instruction, and any active translated items available in this market will be reviewed and revised (once you have made the changes desired, we will automatically update listings within a maximum of 24 hours).
As these adjustments are now entirely at your disposal, changes can be made at will and with no need to request support in the process.
Please bear in mind that there will always be elements involved in increasing prices, namely remaining competitive within the marketplace. Increasing prices above 5% is not recommended, and is likely to affect sales performance.
If you do however experience issues related to adjusting your market prices, please contact us via our Contact Form, provide as much specific information as possible, and we'll investigate and get back to you.