Frequently Asked Questions:
Can you explain the main elements of my invoice?
Below, we have prepared a glossary of the main terms that can be found on your monthly invoice:
Subscription - Summarizes the monthly Billing Period (to which the charges on the invoice refer), as well as the Next Billing Date (the date of your next monthly invoice).
Description - Contains an itemized list of the fees that are part of your Webinterpret service plan. You can locate the fee descriptions according to your Webinterpret service plan here:
Starter (Monthly):

GTM International Starter Transaction fee

GTM Starter Monthly 5.5% Commission

Minimum Pay

Starter - Tech (Monthly):

GTM International Starter Tech Transaction Fee

GTM Starter Tech Monthly 2.9% Commission

Minimum Pay

Business (Monthly):

GTM International Business Subscription

GTM Business Monthly 5.5% Commission

Business - Tech (Monthly):

GTM International Business Tech Subscription

GTM Business Tech Monthly 2.9% Commission
Note: For more information about pricing, see Starter, Business and Performance Plan Update: September 1, 2023.
Units - The number of individual units associated with each type of fee described above.
Unit Price - The cost associated with each individual unit.
Vat % - The amount of VAT calculated in line with EU regulations. VAT % varies as follows:
No EU VAT ID – VAT is applied at the local rate depending on the destination country

EU VAT registered – not subject to French VAT, tax should be settled by the buyer in line with domestic regulations (Reverse charge - art. 44 de la directive 2008/08)

Client outside EU – export transaction – VAT exempt in France (art. 262 of the CGI) (exonération TVA art.44 de la directive 2008/08).
Amount - The sum total of each Description item (based on Units, Unit Price and VAT %).
Total - The sum total of all Description items.
Amount Due - The total amount that is due on the Invoice Date.
Which fees will appear on my invoice?
There are 3 types of fees that can appear on your invoice, depending on your plan:
Subscription fees

are charged in advance on a monthly or annual basis (depending on your plan).

Commission fees

are a percentage of your monthly revenue generated from sales through Webinterpret.

Transaction fees

are charged for each successfully purchased international item listed by Webinterpret.
Can I see a sample invoice?
Below is an example of an invoice for your reference. The information found in the sample invoice has been generated for the sake of demonstration.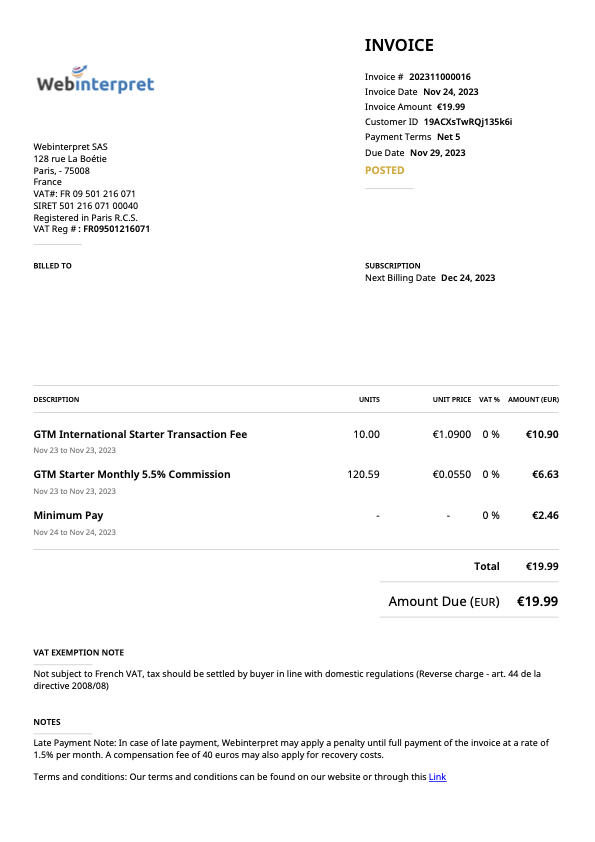 How often are invoices issued?
Invoices are issued once a month from the day you subscribed to a Webinterpret plan and are available to download in your Webinterpret Dashboard.
Invoices for the Webinterpret Shipping service are issued biweekly.
If you receive an email that your invoice is available, it may take up to 24 hours to be visible in your Webinterpret Dashboard.
See How to download and view your invoices for information about accessing your invoices and transaction details.
How do I make a payment?
See Manage and change your payment method to ensure your payment method is active and up to date.
Payment is charged up to 10 days after the invoice was created.
Note: After 10 unsuccessful payment attempts, the payment method will be cancelled. The account will be suspended in the event of unsuccessful payment 30 days after the invoice due date.
How do I modify my invoice details?
You can modify details on your invoice such as your phone number or VAT Registration number from your Profile in the Webinterpret Dashboard. The updated information will be visible on your next invoice.
You are obligated to update this information when it changes to ensure all of your invoice information remains up to date.