This article explains how to keep your eBay account connected to your eBay store, ensuring International listings are consistently visible and available.
Topics in this article:
What are Tokens?

To synchronize your eBay account with Webinterpret, eBay uses what is called a Token, a encrypted link that enables communication between your eBay and Webinterpret accounts without having to provide us with any sensitive data like your account password.
Communication between your store and Webinterpret is not possible without an actively linked token.
Reconnecting the Token
There may be occasions where your Token expires or requires an update and as the service cannot proceed without an active Token, steps are needed to re-connect.
When the connection between eBay and Webinterpret is broken or about to expire you will receive an email notifying you that the connection needs to be re-established. Please be aware that your ''email for notifications'' may not be the same as your primary store email, therefore when checking for notifications from us, please check any email addressed registered with us.
In addition to the original Token, Webinterpret also uses a second token called Token Plus to improve communication and synchronization between marketplaces, and to provide a backup connection against desynchronization in case of a token interruption.
It is highly recommended to that you keep both tokens connected at all times.
Two routes for reconnecting

To reconnect, you have two routes to do so, both covered below:
1. Via the following direct link which then requires you to log into your eBay user interface, which will then re-direct to your Webinterpret Dashboard for automatic re-connection of your Token. The link to follow is here: https://portal.webinterpret.com/connect-token
2. Alternatively, to restore your token, simply login to your Webinterpret Dashboard, proceed to your profile on right hand side of the dashboard and click on Accounts:

As you can see in the image above, the Token Status shows Expires Soon and therefore is suggesting refreshing and renewing your Token. Apart from Expires Soon it can also state Requires Attention, Expired or Disconnected. In all cases, renewing the Token is recommended or required.
To refresh/renew, clock on the Token Status which will then prompt a pop up on the right hand side with the next steps recommended. In the instance shown below, you see Token is Not Connected and the button to proceed to Connect.

Once clicked, this will re-direct you to your eBay store where it will ask you to confirm the connection of the Token (as shown below):

On clicking Agree, you will be returned to your Webinterpret Dashboard, and see a message confirming the action taken (as shown below). If you do not see a positive confirmation, please re-attempt. If there is any ongoing issue related to refresh or reconnecting your Token, please contact us via our Webform and we will investigate the issue further: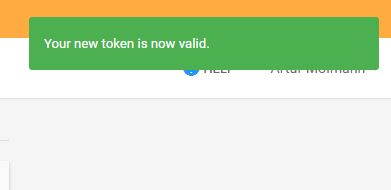 Now your Token is connected and synchronization will be active. We recommend checking the Token Status at regular intervals to ensure no break in Service.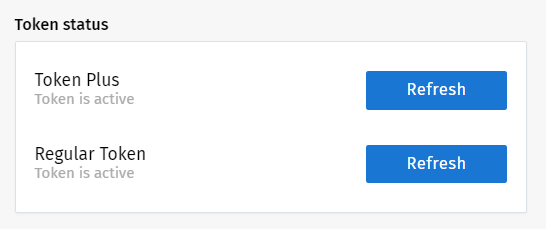 Finally, with any connection issues that you are not able to resolve directly, don't hesitate to contact our Support Team.