Access to your Webinterpret Account is via app.webinterpret.com
If you're unable to gain access it's likely to be because you're you're visiting your account for the first time, or because you no longer remember or know your password.
To gain access for the first time, or to request a new password, simply click on this link, enter the email address connected with your Webinterpret account, and a email will be sent to this account with a unique single use link. Click on the link, and add your new password. This chosen password will need to be entered twice to confirm.
To demonstrate, the login page at app.webinterpret.com is pictured below:
And to request the unique single use link, enter your email such as shown below: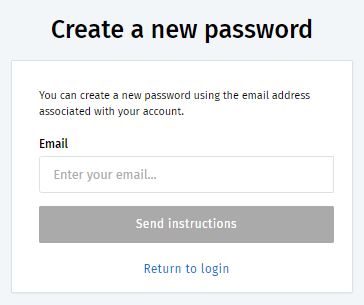 If you wish to login using your eBay credentials and have made changes to your eBay account username, please contact our Customer Support team to update your account information.
For additional assistance related to your Seller User Interface, please check out our Video Tutorials which provide a range of guides on how to get the most from your SUI.